A Look at the Infrastructure Investment Jobs Act and Climate Resilience Financing – March 2022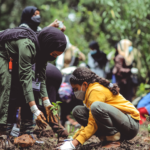 By: Camilla Gardner, Urban Sustainability Directors Network and T. Jonathan Lee, Climate Resilience Consulting
The Infrastructure Investment and Jobs Act (IIJA), a US law that went into effect on November 15, 2021, serves as a pivotal moment in local government resilience finance. Because of IIJA, it is no longer true in all cases that "there is not enough money for resilience projects." What is true now is that we need to make sure the resilience projects we plan are ready to receive allocations and compete for this unprecedented federal funding.
ASAP and Climate Resilience Consulting's Ready-to-Fund Resilience Toolkit for local governments is part of the solution: check it out here.
IIJA tackles climate resiliency as a pressing issue and several U.S. federal government departments with climate action plans will be issuing related Notices of Funding Opportunities in the coming months. IIJA will lift new non-recovery funds to a level that has been unavailable for the past half a century, with significant allocations to the infrastructure sector which is in critical need of funding to help build effective resilience plans and projects.
The bill allocates funding in these categories:
| | |
| --- | --- |
| Area | Approximate Amount |
| Transportation | $284 billion |
| Water | $55 billion |
| Broadband | $65 billion |
| Energy & Power | $73 billion |
| Environmental remediation | $21 billion |
| Western water infrastructure | $8.3 billion |
| Resiliency | $47 billion |
Although just one of many funding areas, monies for climate resilience under IIJA are not limited to the resiliency category. If invested intentionally, many dollars across other funding areas can contribute to building community resilience. This spreadsheet, developed by ASAP Member Josh Foster, allows users to easily find available funding for projects under IIJA programs.
However, the level of funding in the bill – $47 billion over five years, or roughly $6 billion a year earmarked for resilience – is inadequate to support actions required to prepare and adapt to projected future climate changes. The U.S. Environmental Protection Agency's Climate Change Impacts and Risk Analysis (CIRA) project estimates average annual adaptation costs through 2100 associated with coastal protection, urban drainage, and roads, bridges, and rail to be $13-46 billion. Thus, the bill's funding would cover less than half of the lower end of this partial estimate of national adaptation costs. (See additional analysis on these points here.)
Regardless, it is imperative that climate resilience leaders get ready to receive IIJA funding by ensuring their climate resilience projects use intentional processes, innovative accounting practices, and collaborative partnerships and that they benefit from enabling regulatory and policy frameworks. ASAP and Climate Resilience Consulting's Ready-to-Fund Resilience Toolkit for local governments does just that: check it out here. Climate resilience leaders must connect with decision-makers at all scales of government to ensure IIJA funds effective climate resilience projects, setting up America's communities to save lives and improve livelihoods in the face of climate disruption.