Ready-to-Fund Resilience Toolkit
Add a header to begin generating the table of contents

This toolkit was developed for:
Small- and-mid-sized local government practitioners working on resilience.
Small- and-mid-sized local government department leads with power over, and a stake in, climate resilience funding and finance.
Organizations and government bodies with the capacity and jurisdiction to support local government climate resilience funding and finance through policy, resources, technical assistance, partnerships, or process change.
We refer to this audience collectively as "local government leads and partners".
What will this toolkit teach me?
This toolkit describes "how" local government leads and partners can design more fundable projects by pulling specific policy levers, seeking key partnerships, using innovative accounting practices, inverting power structures, and rethinking and redesigning internal processes. It will help local government leads and partners operate within current finance and policy systems to better prepare themselves and their communities for climate resilience funding and finance.
Projects that are ready to secure resilience funding and finance are those which benefit from collaborative partnerships, use intentional processes, use comprehensive accounting practices, and benefit from enabling regulatory and policy frameworks. This tool covers ten characteristics of ready-to-fund resilience projects.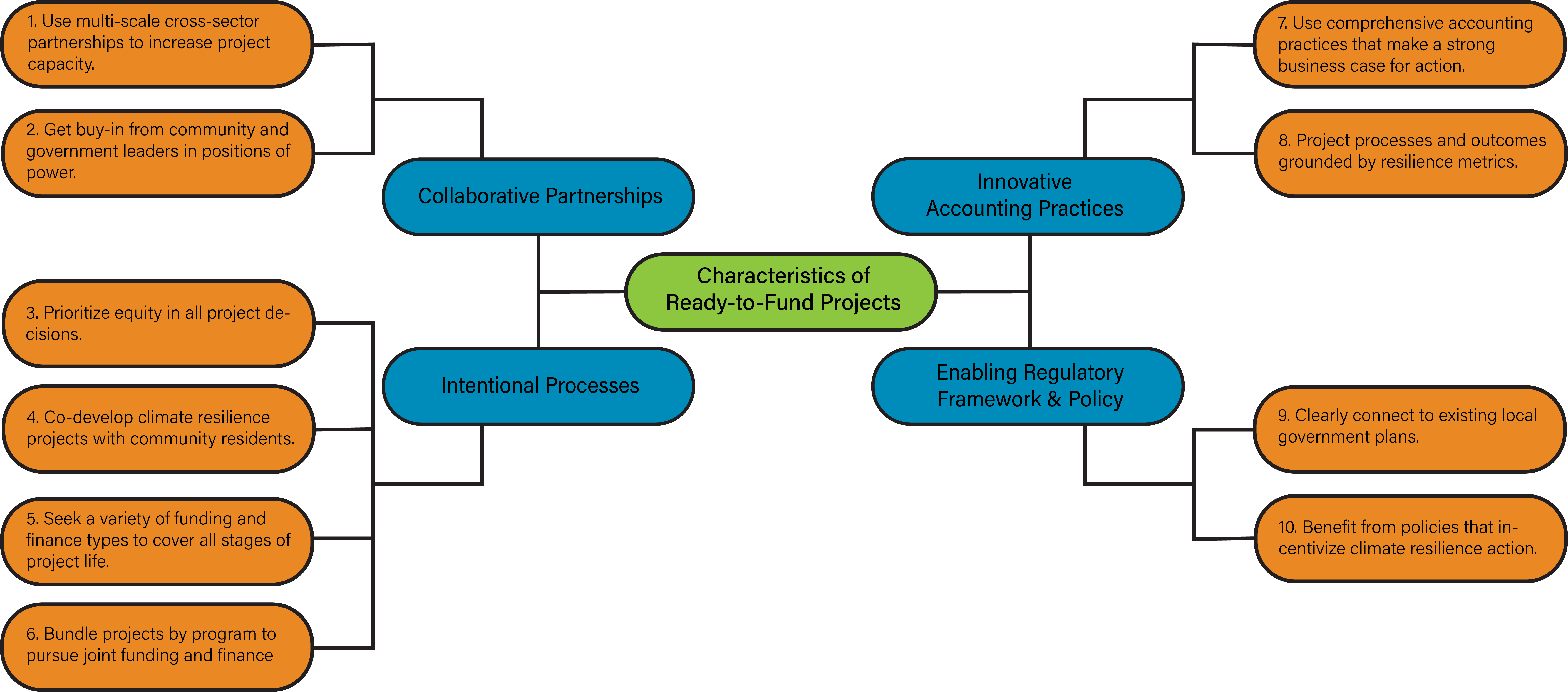 This toolkit applies to a variety of types of resilience projects, from "traditional" grey infrastructure to green infrastructure and social infrastructure. It supports local government practitioners to:
More effectively operate within the resilience funding and finance system.

Better prepare themselves to receive funding and finance for climate resilience-building.

Create equity through resilience funding and finance.
This toolkit can't provide the full range of insight needed for local governments to succeed in funding transformative climate resilience projects. 
Why Not?
Local governments experience many systemic barriers to centering equity and securing sufficient funding and finance for climate resilience investment. For instance, targeting resources to frontline communities may prove to be prohibitive politically. Funding applications may require design, planning, or code elements a local government does not possess the resources to acquire. Immediate and pressing community needs may take priority for limited government resources. Climate resilience projects interweave inextricably with local contexts. Therefore, funding them is not a standardized one-size-fits-all approach. 
This toolkit can't provide a roadmap to a single endpoint.
Why Not?
Resilience is not an end state. It is a process of ongoing monitoring, shifting, and realignment. Rather than offering a roadmap to a singular endpoint, this toolkit offers guidance to support local government practitioners to develop flexible and dynamic partnerships, policies, processes, and practices that create a positive funding and finance environment to support climate resilience.
Momentum is rising for climate resilience-building. In 2020, the U.S. incurred 22 billion-dollar disasters and forecasts signal continually rising disaster costs, regardless of the scale of mitigation that occurs.[1] In tandem, deep social inequities and racial injustices inhibit otherwise capable communities from thriving. The obligation to mitigate damage and transform into a just and equitable society has triggered a movement to build more green, vibrant, and equitable local governments. While the unavoidable costs may be the primary drivers for action, the transformational opportunities and myriad community benefits that we can create provide deep motivation to continue this work.
Still, desires and plans for change often fall short of mobilizing action. Making the business case and securing climate resilience financing are the most common inhibiting factors. This guide can help increase climate resilience and create thriving, just, and equitable communities by securing funding and finance for the physical and social infrastructure necessary for climate resilient communities.
However, just securing funding and finance is not enough. Investments do not produce resilient systems if they bolster the well-being of one community while further exposing groups already at risk disproportionately to climate impacts. Widespread discrimination, promoted by histories of colonialism, white supremacy, domination of nature, and economic exploitation have created systems that inhibit otherwise capable communities from thriving. Climate change exacerbates these inequities and those who are the least responsible for climate change are often the most impacted. Wealth often generates more wealth[2]. Reactive disaster management funds often repay communities for the wealth they possessed, perpetuating socioeconomic disparities. Lower-to-middle-income and Black, Indigenous, and People of Color (BIPOC) communities often residing at the front lines of climate change are often viewed as lesser priorities for climate resilience investment. 
Deepening our understanding of these conditions creates an imperative to transform our social and economic system. What we do with climate resilience-building funds and financing resources will prove highly influential in determining what kind of communities we live in five, 10, or even 50 years from now. Accordingly, this guide addresses equity throughout all components of climate resilience funding and finance. 
The insights in this guide support the creation of vibrant, equitable, and resilient local governments rather than temporary 'fixes' that perpetuate the status quo. To fully act on these insights, we need a stronger enabling environment for both public and private funding and finance via updated policy, regulation, changed collaboration processes, and new approaches to financial analysis. The characteristics discussed in this guide offer insight into what a positive enabling environment looks like as well as action opportunities to bring climate resilience funding and finance strategies to the next level by changing the policy environment.
[1] https://www.washingtonpost.com/weather/2021/10/11/billion-dollar-disasters-2021-climate/

Local government is part of a financial system with public and private monies flowing in to support government projects. The money flowing into cities is both public and private and both public funding and private finance are necessary for local governments to meet their climate resilience needs. Public funds come from revenue generation, including from municipal, agency, state, and federal government taxes, fees, and charges. Private funds come from the capital markets, including investments in bonds, bank loans, and even direct equity investments. Philanthropic funding is also part of private financing. 
Local governments use these public and private funds for subsidies, grants, guarantees, and loans.
Generally in the context of local government financial dealings, funding is understood to mean money that does not need to be repaid, like a grant, while finance is understood to mean money that must be repaid, like a loan or debt service on a municipal bond.
Most municipal governments rely on bonds to finance their infrastructure investments. Bonds are either general obligation, meaning they are serviced by taxes, or revenue, meaning they are serviced by a tax or fee. Green bonds are a type of revenue bond that is mentioned in this guide. When a project has revenue associated with it, it is considered "bankable," in that investors may be interested in providing capital to the project.
Government bonds are generally rated by one of the credit rating agencies - such as Standard and Poors Moody's or Fitch. This credit rating indicates the agency's assessment of the ability of the issuing agency to pay back the debt. Increasingly, credit rating agencies are examining the physical risks of climate change in their assessments. 
Finance and accounting professionals in local government are fundamental to the success of resilience finance. This is because they lead interactions with the rating agencies and co-create annual economic planning documents. One example is the capital improvement plan (CIP) or capital investment plan, a planning and fiscal management tool used to coordinate the location, timing, and financing of capital improvements over a multi-year period. 
There are signs that investors across the public and private sectors are keen on climate resilience investment. Finance for adaptation increased by 53% - reaching USD 46 billion globally - in 2019/2020 compared to 2017/2018. However, in the U.S. and Canada, funding specifically for adaptation decreased by 98 percent between 2019 and 2020, and funding for dual uses (adaptation and mitigation) projects decreased by 82 percent.[2][1] Government was the sole funder of adaptation-specific projects in both years; dual uses projects benefitted from both public and private investment in 2019 and only public investment in 2020. In 2019, the Global Commission on Adaptation estimated that "a (U.S.) $1.8 trillion investment in adaptation measures would bring a return of (U.S.) $7.1 trillion in avoided costs and other benefits." Hopefully, as we better understand and communicate the immense value in climate resilience investment, and not only from a financial perspective but also in terms of the compounding community benefits, many more opportunities will emerge to help fill the gap in resilience funding and finance.
[1] Aggregated figures, CPI's Climate Landscape of Climate Finance Database. Available at: https://www.climatepolicyinitiative.org/wp-content/uploads/2022/01/2019-2020_GLCF_Data.xlsx
[2] Percentages were calculated using data provided by CPI's Global Landscape of Climate Finance 2021.
Got Challenges? Find Solutions.
Despite recent growth in funding and finance opportunities, many communities - particularly small and medium-sized ones - have a difficult time securing private investment for equitable climate resilience. These projects are large and complex, they require large-scale capital mobilization, and they're highly sensitive to local politics. Local governments may face a variety of challenges, from a lack of resources, funding, or political will to a mismatch between older plans and community needs.
Do the challenges below sound familiar to you? If so, check out the rest of this guide to find ideas and solutions.
Do you find (or do you worry) that your projects' cost-benefit assessments prioritize wealthier communities over those who have the most to gain from climate resilience investment, such as LMI and BIPOC communities?
In many climate resilience projects, benefits - including direct revenue, economic activity, and environmental and social improvements - accrue years after project completion. Also, project benefits include things such as improvements to the environment and quality of life, which are poorly understood, and difficult to quantify. Cost-benefit assessments privilege benefits to high-dollar value assets, meaning projects in lower-resourced communities may have a lower cost-benefit ratio than those in well-resourced communities. 
Are you struggling to attract investment in your projects because they do not generate revenue?
Many climate resilience projects don't have a direct revenue source. Unlike renewable power, for example, that generates energy that can be sold, a flood mitigation project does not have a revenue stream. Projects often fail to attract investment because investors consider projects without revenue associated with them as "unbankable." Projects need revenue (including from taxes and fees) in order to pay back debt, for instance, debt service a bond.
Is difficulty articulating or quantifying anticipated benefits making it hard to use traditional revenue-generating tools for your project?
Many climate resilience projects struggle to incorporate traditional revenue-generating tools - such as rates or taxes - because anticipated benefits may be years away, related to potential avoided loss and/or experienced by beneficiaries that did not pay for the project. 
Are you having trouble getting a large project off the ground because you don't have a revenue source to repay debt financing?
Many climate resilience projects are large and complex, requiring large upfront expenditures. Therefore, they often need debt financing, such as bonds. Debt financing requires identifying and committing to securing a dependable revenue source that will repay investors over a longer time period.
Learn how to design projects that address these barriers by exploring:
Characteristic 5: Seek a variety of funding and finance types to cover all stages of project life.
Characteristic 7: Use comprehensive accounting practices that make a strong business case for action.
Characteristic 8: Ground project processes and outcomes in resilience metrics.
Are you interested in using new or "innovative" finance tools, such as social impact bonds, but are worried that they may carry extra risks or costs because they haven't been around for very long?
Several newer and "innovative" finance tools, such as social impact bonds and insurance-linked securities, have emerged in funding and financing infrastructure for adaptation and resilience projects. These tools are largely unproven in the mainstream financing market. Innovative financing mechanisms may be more difficult to use in the near term since there is perceived transaction risk due to a lack of precedent and investment performance data.
Check out these sections to learn more about these mechanisms and how you can build projects that are ready to take advantage of them:
Characteristic 2: Get buy-in from community and government leaders in positions of power.
Characteristic 5: Seek a variety of funding and finance types to cover all stages of project life.
Characteristic 10: Benefit from policies that incentivize climate resilience action.
Do you have a limited budget? Small staff and lack of administrative capacity? No time left for new responsibilities? 
Do you find that there is a lack of resilience leadership or political will to allocate resources to resilience or social equity projects, especially those that may accrue benefits beyond an election cycle?
Do you see that grant funding is available but you don't have the capacity to apply for it?
Even if grant funding is available, it can be difficult to harness resources to design funding ideas and technical capacity for grant writing and administration may be lacking for securing grants or attracting investors. Sometimes, grant administration rules are so onerous that jurisdictions don't apply. 
Do you struggle to get started on projects because you need upfront investment to cover project planning tasks? 
Planning for adaptation and resilience projects requires significant effort so more upfront resources - that may not be as readily available via grants- may be needed for coordination and community engagement and complex design, engineering, and economic planning.
Do you lack the capacity to generate public support needed to use tools like taxes?
Many debt service tools, such as taxes, require administrative resources to generate broad public support to meet voter approval thresholds.
Do you lack the technical or administrative capacity to find the multiple sources of funding needed to implement a large project?
Adaptation and resilience projects may be large in scale and designed to provide myriad benefits. Larger projects may require tapping into different funding sources to be realized. Long-standing relationships and a history of cooperation between agencies, departments and/or investors may be lacking.
Learn how to increase capacity AND reduce capacity needs by exploring:
Characteristic 1: Use multi-scale cross-sector partnerships to increase project capacity.
Characteristic 2: Get buy-in from community and government leaders in positions of power.
Characteristic 6: Bundle projects by program to pursue joint funding and finance.
Are you getting conflicting guidance from various stakeholders about what's most important in your community? Is the climate resilience agenda not a priority in your community? Do people in your jurisdiction not understand why multiple agencies or departments need to be involved in building climate resilience?
Planning for adaptation and resilience projects is challenging because at the programmatic and project level, communities can face conflicting guidance about what the government's overall short and long-term plans are and what needs to be done to build resilience. For instance, a state may advocate that coastal communities consider sea-level rise in their decisions while also asking to increase their housing stock. 

Sometimes finance staff, legal staff, elected officials, and others have little knowledge of climate resilience or don't have the capacity to learn about and act on climate resilience needs.

Departments that have not traditionally considered the future climate changes or collaborated or shared resources may need to do so in order to attract investment (and make a project successful).
Learn strategies to overcome these challenges by exploring:
Characteristic 1: Use multi-scale cross-sector partnerships to increase project capacity.
Characteristic 2: Get buy-in from community and government leaders in positions of power.
Characteristic 7: Use comprehensive accounting practices that make a strong business case for action.
Is there a lack of alignment across stakeholders in your local government? 
When incentives and regulations misalign across local governments,

investors can find it difficult to assess projects.
Are you trying to get financing on a project-by-project basis? 
Creating financing structures and jurisdiction for each project increases transaction time and costs. Infrastructure experts estimate that the use of lawyers, engineers, and other advisers can equal 1-5% of project costs that prove difficult to recoup since they are not capitalized. For resilient infrastructure projects, transaction and development costs may even be higher per project because limited data on financial and risk performance makes deal evaluation more complicated. 
Check out these characteristics to explore solutions:
Characteristic 1: Use multi-scale cross-sector partnerships to increase project capacity.
Characteristic 6: Bundle projects by program to pursue joint funding and finance.
Characteristic 10: Benefit from policies that incentivize climate resilience action.
Are you looking to learn how and why to center social equity in your climate resilience projects?
Communities with the highest climate risk are often those that struggle to address those risks because they have relatively fewer resources, capacity, safety nets, or political power due to discrimination and exploitation. These same communities are often deprioritized for climate resilience investment. 

Existing institutionalized funding and financing practices - including emerging climate risk disclosure guidelines - could further increase disparities in community resilience if such practices do not change to explicitly remove inequity.
Learn how to center equity in climate resilience funding and finance by exploring: 
Characteristic 3: Prioritize equity in all project decisions.
Characteristic 4: Co-develop climate resilience projects with community residents.
Lots of barriers are outside the control of local governments. For example:
Information about, and measures to address, risks from climate change are not incorporated into most policies governing public and private institutions. 

The absence of quantitative data on the financial and risk performance of resilience infrastructure projects exacerbates this problem which can incentivize risky behavior. 

Public and private sector programs will likely soon be asked to better account for climate risk.

Few regulatory incentives and policies exist to attract and secure private investors effectively. Climate risk is often absent or underemphasized in decision-making processes for investors. 

Because climate change is often perceived as slow-moving with impacts far into the future, climate risks are undervalued or not accounted for in many types of market investments. 

Government policy may lag investor action.

Procedural and administrative requirements outlined in both state and federal funding sources can make it difficult to combine funding streams.
This tool won't make them go away, but it can help local governments and the folks that support them cope with them, work around them, and work to change them. Check out:
Characteristic 8: Ground project processes and outcomes in climate resilience metrics.
Characteristic 10: Benefit from policies that incentivize climate resilience action.
To be ready-to-fund, projects need to connect to existing local government plans. Without strong plans:
Infrastructure needs are unknown

Project pipelines are absent, not well-communicated, or fail to center social equity.

Infrastructure services in high climate risk areas may be deprioritized while community members continue to rely on them.

The number of projects the community needs is unclear. When the number of projects is unclear, investors find it difficult to justify investing in diligence and credit-evaluation expertise or in partnerships. 

There is a lack of integration between the project proposal, design processes, implementation, and funding/finance processes.
Check out Characteristic 9: Clearly connect to local government plans to learn more.
10 Characteristics of Ready-to-Fund-Projects

Policy actions to incentivize equitable climate resilience investment.
| | |
| --- | --- |
| Establishing Criteria for Equitable Climate Resilience | [1] Integrate climate resilience measures into program spending and evaluation criteria. [2] Incorporate resilience criteria into public/private partnership RFPs. [3] Integrate resilience requirements and design principles into all infrastructure-related policies, programs, and investment decisions. [4] Increase market incentives (such as insurance discounts) for projects that increase resilience. [5] Establish tax or credit incentives for projects that prioritize LMI and BIPOC communities. |
| Baking Climate Risk into Institutional Frameworks | [1] Mandatory risk assessments. [2] Integrate future climate information into land-use planning and other decision-making, and take into account climate impacts that gravely impact communities, particularly those historically marginalized by land-use decisions. For infrastructure, this means incorporating climate risk considerations across the entire asset lifecycle. [3] Adopt disclosure requirements that steer investors toward projects and institutions exposed to less climate (and thus financial) risk. [4] Clarify public/private risk allocations and codify allocations through legally enforceable contacts. [5] Introduce climate risk considerations into disclosure requirements and fiduciary responsibility standards. [6] Expand access to price guarantees in resiliency benefits to help overcome the policy sensitivity of these investments, reducing risk for private investors. [7] Encourage banks to set aside a certain proportion of existing guarantees for projects that meet sustainability criteria to boost investment of private capital. |
| Standardizing Climate Resilience Investment Processes | [1] Standardize procurement and contractual processes that include climate resilience to minimize transaction costs for the private and government sectors, but with sufficient flexibility built in for project/sector-specific requirements. [2] Ensure objective, robust local government governance procedures and vehicles to serve as a focal point for investors to partner with. [3] Create policy platforms to enable cooperation among developers, investors, and regulators. [4] Standardize bidding and procurement processes. [5] Develop clear and consistent investment regulations and policies. [6] Build a strong institutional framework that clearly articulates roles and distinct responsibilities between the public and private sectors. [7] Build capacity to advance project development in a more streamlined and cohesive manner. |
| Supporting Innovation | [1] Establish common legal and design standards that can reduce costs and make doing business easier. [2] Pass policy that provides approval of innovative financing mechanisms and models. |
Risk Management Mechanisms
Implementing risk-reduction measures is critical to obtaining private sector investment. The table below describes financial mechanisms to manage risk that can increase investor comfort and interest while often simultaneously lowering costs.
Green bonds and Yieldcos

Instruments such as green bonds and yieldcos use common financial instruments that give investors a sense of familiarity and, thus, security to enhance capital flows to resilient infrastructure. Investors view green bonds as an increasingly common type of revenue bond and a good way to achieve market-competitive returns while incorporating climate change as part of their institutional missions. Yieldcos are publicly traded companies created by a parent company that bundle operating infrastructure assets to generate predictable cash flows that are then paid out in shareholder dividends. Green bonds and yieldcos can reduce risks associated with infrastructure investments. For instance, the credit risk associated with green bonds is typically lower than that of similar project bonds because the risk is assumed by the issuing entity and not by the cash flows from the individual project. Yieldcos, or a 'yield' company formed to own operating assets and raise funds by issuing shares to investors, reduce risk by pooling projects, which helps institutions diversify their investments.

Adapting financing models

Another option is to adapt existing funding models to seek innovative risk-transferring mechanisms while operating within a framework familiar to investors. "Land value capture," for example, is used to finance railways, metros, and highways. This model seeks to capture the additional value created by infrastructure through impact fees, special assessment districts, or tax-increment financing. This allows infrastructure to be financed based on its ability to raise the value of the surrounding land once built. Similar models could be designed for resilient infrastructure, if it made a community safer from flooding and increased property values. This value, for instance, could be leveraged to finance the up-front project investment.[1] Over the long run, the more experience institutional investors gain with resilient projects, the more comfortable they will be and more likely to allocate more of their portfolios to resilient infrastructure.[2]

Guarantees

A guarantee is a commitment signed with a financial institution (bank, insurance company, city, etc…) that "covers the beneficiary in case of default or breach of a contractual obligation."[3] So long as climate risk is baked into project planning and implementation considerations, guarantees provide an effective way to "crowd in" private finance and leverage multiples of private capital for every dollar spent.[4] Guarantees make it possible for risk-averse investors to participate in a project they might otherwise avoid. As investors see that the real risk profile is lower than they believed, guarantees would no longer be required. Increasing the use of guarantees can be achieved in numerous ways, although a primary strategy involves differential pricing. While policy risk could be higher, resilient infrastructure should be less vulnerable to climate risk than traditional infrastructure, lowering an investment's long-term risk profile. Therefore, some guarantees for resilient infrastructure could be priced lower than those for traditional infrastructure. Differential pricing also could provide an incentive to the private sector to invest in resilient infrastructure, particularly if backed by guarantees. Increasing guarantees is relatively simple in terms of policy and execution. It involves scaling up existing capabilities. Stakeholder coordination also is straightforward because it only requires banks to modify what they are doing and place a greater emphasis on resilient infrastructure. However, in many cases, governments also must agree to provide a counter-guarantee, something they may be unwilling to do. Also, there may be an insufficient number of projects that want guarantees or that meet development banks' requirements.

Syndication loans

A syndicated loan is: "Financing offered by a group of lenders—referred to as a syndicate—who work together to provide funds for a single borrower. The borrower can be a corporation, a large project, or a sovereign government. The loan can involve a fixed amount of funds, a credit line, or a combination of the two."[5] Using a syndication can create a larger secondary market for resilient infrastructure-related securities. Loan syndication enables lenders to recycle their capital for more resilient infrastructure investment, increasing the projects financed. This would boost institutional investor familiarity with the asset class, reduce transaction costs, and allow the recycling of capital. Loan syndication also reduces transaction costs. This is particularly helpful for smaller projects and those that require a premium or that include new technologies. By providing a lower-risk, lower-cost way to participate, syndication gets the private sector involved, building its confidence and willingness to invest.[6]

Insurance pooling

A 'risk pool' is a form of risk management mostly practiced by insurance companies. They unite to form a pool to provide protection against catastrophic risks such as floods or hurricanes. Take wind pools, for example. Coastal wind insurance pools in the U.S. are chartered by states to provide property insurance to residents and businesses that cannot secure private insurance with sufficient coverage at rates considered affordable. Some "wind pools" cover only wind losses, while others offer a multi-peril policy. Indeed, multiple pools can coexist in the same state. Rates vary by pool, region, and policy type, and they often are below actuarially sound levels. Wind pools in states along the Atlantic Coast have grown in recent years—sometimes dramatically—yet few have enough capital (either retained or by way of reinsurance) to satisfy their potential obligations. Risk pools in the form of parametric insurance are being improved to include natural resource conservation, such as coral reefs.

[1 and 2] Beckers , Frank, and Uwe Stegemann. "A Smarter Way to Think about Public–Private Partnerships," 2021.

[3] "Financial Guarantee Management: Systems, Background, Issues, Solutions." Finance Active, 2 July 2020.

[4] Bielenberg, Aaron, Mike Kerlin, Jeremy Oppenheim, and Roberts Melissa . "Financing Change: How to Mobilize Private sector Financing for Sustainable Infrastructure," January 2016.

[5] Segal, Troy. "Syndicated Loan." Investopedia, Investopedia, 7 Dec. 2021

[6] Bielenberg, Aaron, Mike Kerlin, Jeremy Oppenheim, and Melissa Roberts. "Financing Change: How to Mobilize Private sector Financing for Sustainable Infrastructure," January 2016.
Local governments have access to many funding mechanisms to further resilience progress. To supplement federal, state, philanthropic, and institutional grants, these are several mechanisms available to leverage debt, seek innovative sources of revenue, engage the private sector, and mitigate risk.
General Obligation Bonds

A common municipal bond structure issued by a local government (secured by an income or carbon tax) to finance major infrastructure and other resilience investments that provide long-term public benefits. Bonds are sold to investors by municipalities (or states) and secured by the available revenue streams (taxes). Low transaction costs, relatively well understood, does not require new legislation.

Revenue Bonds

Similar to general obligation bonds except the revenue source backing the bond and paying the debt service is the project being financed. For example, a highway can be financed with a revenue bond if tolls collected are used as debt service.

Green Bonds

Loan for a fixed period of time that goes toward environmental projects and is often associated with tax incentives. Traditionally, they are very infrastructure-centric and less useful to further more holistic, human-centric resilience efforts. They have been used to raise capital for specific clean power, carbon-reducing projects. However, green bonds increasingly are used to finance non-carbon projects, including stormwater management, transportation, land-use projects, and waste management, among others. More appealing than bank loans, they offer longer maturity periods, third-party credit enhancement and more flexible covenants. When issued by government entities, they are tax-exempt.

Resilience Bonds

An experimental finance mechanism not yet in the marketplace, they are a variation of catastrophe bonds that link insurance and resilience projects to monetize avoided losses (reduction of insurance claims). The resulting risk-reduction "resilience rebates" can be a source of predictable funding for insurance policyholders to invest in as a means to finance resilience projects.

Catastrophe Bonds

Catastrophe bonds provide a means to manage financial risk associated with extreme natural disasters. Essentially, they are a form of insurance and trigger when disaster strikes. When a disaster (hurricane, storm surge, flood, earthquake, etc.) reaches a given threshold within the bond term of 3-5 years typically, the insurance purchaser keeps a certain amount of the bond to pay off losses and investors lose some or all of their investment. They prove attractive to investors because they are not associated with other financial risks and provide attractive rates of return. They become more valuable investments when the estimate of financial loss from a natural hazard shrinks. They are used regularly by government-sponsored insurance programs, including the California Earthquake Authority, Florida Citizens Property Insurance, Louisiana Citizens Insurance, Amtrak, and the Texas Windstorm Insurance Association.

Tax Incremental Financing

Tax Increment Financing (TIF) is a method of financing a project or development in a designated geographic area and based on the anticipated increase in property tax generated by the project. TIFs offer a promising mechanism to promote investment in climate resilience and nature-based solutions so long as the property costs are not borne by LMI or BIPOC residents or property owners and improvements do not displace local businesses and residents.[1]

[1] Dillard, Maria. "Inventory of Community Resilience Indicators & Assessment Frameworks." National Institute of Standards and Technology, April 16, 2021.
Utility Rates

A traditional approach to generating revenue that taps utility revenues by adjusting rates. Use of these funds is restricted to actions consistent with the utility's purpose. With electric utilities, this can be done through rate-setting by state regulators. Stormwater utilities around the U.S. have been raising rates to pay for flood-prevention improvements. An advantage of using bonds and utility rates is that they spread the costs across very large numbers of payers, which allows the increases to be minimized. But this spread also means the benefits of resilience building that may be realized are not tied to the costs that one will pay.

Insurance Surcharges

A state or regional trust fund, capitalized via a surcharge on certain lines of insurance (such as property, casualty, for example) can offer an additional pool of funding for resilience funding and finance. Insurance surcharges offer an opportunity to establish a dedicated funding source that crosses jurisdictions but also take advantage of bond leverage.[1] This is a progressive strategy because higher-income people insure more expensive items.[2] Goldman Sachs has conducted similar work on insurance surcharges through its investment banking division. It found that premiums for property, casualty, and title insurance in New York State totaled roughly $47 billion in 2017, and a 2% surcharge would raise about $950 million annually. From a consumer's standpoint, homeowners would pay a $26 annual surcharge on an average homeowner's insurance bill of $1,302 and a $24 annual surcharge on the average car insurance bill of $1,224.[3]

Carbon Pricing

The energy sector is another potential target. California invests in resilience with funds obtained from the carbon-pricing market it uses to reduce carbon emissions. In 2019, the state's cap-and-trade auctions generated more than $2 billion appropriated by the legislature. Investments included $2 million for coastal resilience planning, $10 million for community fire planning and preparedness, $85 million for fire prevention, $100 million for resilience-related drinking water systems, and $2 million for resilience planning in the San Francisco Bay area.

Dedicated Tax Revenue

Funding can be sourced from property taxes, sales taxes, resilience special districts, or tax increment financing.  The Georgia Outdoor Stewardship Act became effective in July 2019.[4] It dedicates a portion of existing sales and use taxes on outdoor sporting goods to support clean water and land acquisition projects that increase resilience across the state. The Trust for Public Land partnered with state and local leaders to design and pass the conservation ballot measure.[5]

Tourism and Recreation Fees

Revenue collected by assessing small fees for voluntary programs, such as paying for parking tickets online, registering for recreation programs, creating a property tax account, etc. Municipalities can use fees to increase revenue available for sustainability- and resilience-focused projects. 

[1 and 3]  Davis, Jason, and Caitlin MacLean. "Financing Urban Resiliency: Coastal Resiliency in Lower Manhattan." Milken Institute and AECOM. Accessed January 18, 2022. https://milkeninstitute.org/sites/default/files/reports-pdf/FILAECOM_New%20York_Executive_Summary%20FINAL_0.pdf.

[2] Resilient Nation Partnership Network, FEMA, and NOAA. "Building Alliances for Equitable Resilience," 2020. https://www.fema.gov/sites/default/files/documents/fema_rnpn_building-alliances-for-equitable-resilience.pdf.

[4] Task Force on Climate-Related Financial Disclosures. "Task Force on Climate-Related Financial Disclosures | TCFD)," n.d. https://www.fsb-tcfd.org/.

[5] Smith, Kris. "Building Funding Strategies for Flood Mitigation Projects." Headwaters Economics. September 09, 2021. https://headwaterseconomics.org/natural-hazards/funding-strategies-flood-mitigation/#how.
| | |
| --- | --- |
| Environmental/ Social Impact Bonds | Pay-for-success approach that transfers risk. Performance-based contract that is privately financed. Financiers are paid back by a public entity if pre-established metrics are met. |
| Public-Private Partnerships | Designed to leverage additional capacity and financing for the delivery of infrastructure projects while also increasing stakeholder engagement in project delivery. Can be used to bring private expertise and capital to the design, financing, construction, operation, and/maintenance of a publicly owned asset. Regional example: Chesapeake Bay Watershed CBP3. Many require enabling legislation. |
| Trading Schemes | Includes offsets in which developers can manage stormwater on another property to meet regulations or trading; developers or agencies can purchase credits on a market. Private funding, private property. |
| Infrastructure Bank | Used to coordinate infrastructure development and investment during recovery and beyond. Serves to centralize a state's infrastructure planning to maximize funding efficiency rather than making funding decisions on a project-by-project basis. The bank combines federal disaster relief funds and state funds and can leverage those funds to encourage private investments to finance resiliency improvements to the state's infrastructure. |
Cost benefits analysis takes the payback period of a project into account by applying a standard discount rate to the costs and benefits over the analysis period. This converts project cost and benefits accrued many years ahead into a 'net present value.' The further into the future the benefit or cost occurs, the lower the weight attached to it. The challenge is that in doing so, accounting appears to make the long-term benefits of resilience projects disappear, causing the upfront costs to dominate the cost-benefit ratio and make climate resilience projects seem artificially unfavorable. So long as traditional discounting practices are used, a bias will always exist in that direction.
Discounting Opportunities
Time-declining discount rates (DDR)

– These are an innovative discounting strategy for discounting but make future benefits more relevant to current investors and policymakers. Basically, the discount rate used is not fixed; the discount rate used to account for costs or benefits 25 years down the line is lower than the discount rate used for costs and benefits in five years from project completion. Essentially, DDRs can be used to give greater weight to project outcomes that may not be realized for years after project completion (namely social and environmental co-benefits). In the context of resilience projects, opting to use DDRs may result in a more favorable cost-benefit ratio that can help better make the case for their implementation.

[1]
Social Discount Rates (SDR)

– Investments that cascade social and environmental benefits into communities can be eligible for social discount rates that typically are lower than financial discount rates and make future benefits more relevant to the present-day investor.

SDRs for climate change have been suggested in the range of 1% to 6%.

[2]

For context, traditional discount rates for investments generally range between 7.5% and 9.5%.[3]
[1] Review, The Regulatory. "The Case for Declining Discount Rates | The Regulatory Review," April 7, 2014. https://www.theregreview.org/2014/04/07/07-farber-discount-rates/.
[2] Noleppa, Steffen. "Economic approaches for assessing climate change adaptation options under uncertainty: Excel tools for cost-benefit and multi-criteria analysis." (2013).
[3] Ori, Joseph J. "The Cap Rate and Discount Rate." GlobeSt, August 8, 2019. https://www.globest.com/2019/08/08/the-cap-rate-and-discount-rate/.
U.S. Federal Resilience Funding Sources
Climate Finance Advisors, BLLC (CFA) tracks federal funds useful for actors at various jurisdictional levels (states, local governments, tribes, etc.). Below is a link to a snapshot as of January 2022, which draws upon work conducted and prepared under the

EU-USCA Climate Risk and Resilience Cooperation

supported by the European Union and the U.S. Climate Alliance. It also draws from the

Connecticut Financing and Funding Adaptation and Resilience Working Group

report appendix of federal funding resources.

This sheet provides resources to help local governments understand and track federal funding opportunities coming from the Infrastructure Investment and Jobs Act.
Resilience Funding Tracker - Living document compiled by the ASAP's Funding and Finance Peer Learning Group (open and free registration here).
Characteristics of Potential Partners
Institution

Funding/Financing Tool

When to Involve

Key Benefits

Key Drawbacks

Non-profit/ Educational

Academic and Research

Grants

Evaluation of costs and benefits; Recommendations for new technologies; Post-completion monitoring and evaluation

Can access research grants that fund data collection and analysis; Independent oversight

Limited in funding capacity

Community Development Corporation

Grants, donations, loans

Community-oriented developments and services including affordable housing; Job training programs

Continual involvement in community

Limited in funding capacity

Community Development Financial Institutions

Grants, donations, loans

Predevelopment; Bridge financing; Workforce development

Can offer smaller and less burdensome loans to communities that cannot access larger funding opportunities

Limited in funding capacity

Community Land Trusts

Grants, Donations

Community-oriented developments including affordable housing and recreational space

Continual involvement in community and long-term affordability mission

Limited in involvement; May be limited in funding capacity; Resource-intensive to establish

Think Tanks

Grants, Donations

Community engagement in planning and oversight processes; Performance evaluations; Support revenue generation efforts (e.g. ballot initiatives)

Can access private donations and membership fees; Can provide space for community engagement and debate Independent oversight

Limited in funding capacity

Public Sector

Federal

Funding/Financing Tool Grants, donations, loans Grants, Donations Bonds, grants, taxes

Can fund major infrastructure projects with long timeframes

Can levy taxes; Oriented towards provision of public goods. Access to low-cost financing

Constitutional limitations on taxing power; Changing administrations can affect funding priorities

State

Bonds, grants, general & special taxes, fees

Can fund major infrastructure projects with long timeframes

Can levy taxes; Oriented towards provision of public goods. Access to low-cost financing

Changing administrations can affect funding priorities

TIF District

Tax-increment financing (future property value increases)

Projects located in areas with increased development potential

TIF formation may not require voter approval

Issuance of TIF bond requires 55% voter approval in district Requires redirecting future property tax revenue; Dependent on anticipated increases in value.

Publicly- Owned Utilities

User fees, bonds

Utility infrastructure; Vulnerable shoreline assets

Access to tax-free bonds; Rates can be raised for water, sewer, and stormwater unless a majority protest; Gas and electric rates are set by district's elected governing board in a public forum.

High administrative capacity required to form a POU if not already established.

Special Districts

Public Private Partnerships; Bonds, special taxes, assessments, service fees

Assessments, service fees User fees, taxes; Additional or enhanced public services

A government entity with authority to issue bonds and levy special taxes; Can establish a Communities Facility District

Require continual overhead funding; Subject to the same voter approval laws as Counties and Cities; Cannot levy general taxes.

Private Involvement

Public Private Partnerships

User fees, taxes, risk management

Involve as early as possible; Risk can be effectively transferred; Outcomes can be quantified

Can sometimes offer cheaper cost service delivery; Access to private capital/avoidance of public debt

Complex to structure; High transaction costs; Equity concerns; Cost savings to ratepayers not guaranteed

Investor-Owned Utilities

User fees

Utility infrastructure; Vulnerable shoreline assets

High discretion over rate setting; Can establish tiered rate structures/lifeline rates; High engineering capacity; Long-range capital planning horizons

Rates subject to CPUC approval

Insurance

Insurance surcharges, insurance pooling

Early: via risk officer, when assessing risk (using insurance data as feasible); via finance innovation team when investigating parametric options.

Risk transfer

Local government's insurance company point of contact may not yet be familiar with climate risk. Local governments traditionally have relied on rainy day funds, not risk transfer, and may not have innovative insurance relationships.

Institutional Investors

Grants, loans, bonds

Involve as early as possible to ensure alignment with eligibility criteria

Enhanced market efficiency; Additional capital source

Most evaluate potential investments on market return, not social or environmental good. Even social impact investors require returns on investment that may be beyond the capacity of a public service.
| Term | Definition and Example Sentence | |
| --- | --- | --- |
| Adaptive Capacity | The ability of an individual, asset, or system to adjust to a hazard, take advantage of new opportunities, or cope with change. Varies depending on the characteristics of the affected population, the nature of the changes, and the impacts of those changes. This program helped increase the adaptive capacity of the people in the neighborhood. | Adapted from U.S. Climate Resilience Toolkit Glossary. AECOM. "Paying for Climate Adaptation in California" October 2018 |
| Bankable | Projects that possess an attractive economic profile that appears likely to deliver high enough risk-adjusted returns to attract private sector equity or debt. Often, bankable projects refer to projects that incorporate some form of revenue generation – taxes or fees. However, projects can be made bankable through incentives, and by demonstrating how risks have been mitigated, significant cost avoidance and additional (sometimes indirect) environmental, social, and/or economic benefits will occur. In a bankable project, returns, costs, and risks are allocated appropriately between the government and private sector. | Climate Resilience Consulting |
| Climate Change | Changes in average weather conditions that persist over multiple decades or longer. Climate change encompasses both increases and decreases in temperature, as well as shifts in precipitation, changing risk of certain types of severe weather events, and changes to other features of the climate system. Example: Climate change is contributing to increased precipitation in the county. | USGCRP |
| Climate Change Adaptation | In human systems, the process of adjustment to actual or expected climate and its effects, in order to moderate harm or exploit beneficial opportunities. In natural systems, the process of adjustment to actual climate and its effects; human intervention may facilitate adjustment to expected climate. | IPCC SREX |
| Climate Impacts | Effects on natural and human systems that result from hazards. Example: The climate impacts on marine environments are becoming increasingly severe. | Adapted from U.S. Climate Resilience Toolkit Glossary |
| Climate Change Mitigation | Processes that can reduce the amount and speed of future climate change by reducing emissions of heat-trapping gasses or removing them from the atmosphere. Example: The state's climate change mitigation efforts include incentives to switch to forms of energy that emit fewer greenhouse gasses. | U.S. Climate Resilience Toolkit Glossary |
| Climate-Related Hazards | A condition or event produced or exacerbated by climate variability or change that may cause harm. | ASAP |
| Climate Resilience | Climate resilience is the ability of communities to anticipate, accommodate and adapt positively to or thrive amid changing climate conditions or hazard events, and also to enhance quality of life, reliable systems, economic vitality, and conservation of resources for present and future generations. Resilience differs by facility, community, and setting. | Urban Sustainability Directors Network |
| Co-creation | People from different departments, backgrounds, or disciplines joining efforts to learn something new. | Van Amstel |
| Community Development Banks (CDB) or Community Development Financial Institution (CDFI) | A development bank or credit union that focuses on serving people who have been locked out of the traditional financial systems such as the unbanked or underbanked in deprived local communities. Example: Community Development Financial Institutions are working to strengthen communities by expanding access to capital. | Climate Resilience Consulting |
| Decision-Making | The process of purposely choosing one course of action from a set of alternatives to advance personal or organizational goals. Example: The land managers were able to engage in better decision-making after they started using higher-quality data from the new sensors. | ASAP |
| Equity (Financial) | A developer's potential contributions toward project financing in terms of cash or land, or other assets. This can be calculated by subtracting any financial commitments from the value of any cash, land, or other assets. For example, a homeowner's equity equals the difference in the market value of the home and the amount outstanding on his/her mortgage. | AECOM |
| Equity (Social) | Equity in a social context is the right to fair and just inclusion in a society that allows all to participate and to prosper. Equitable responses to climate change address the unequal distribution of climate change impacts, accountability of who is responsible for causing and responding to climate change impacts, and the intersection of climate policy with other preexisting social and economic conditions. Ensuring equity in the context of funding and financing adaptation and resilience projects can include such considerations as the decision of how money is raised, how money is spent, and who should make these decisions. | Climate Resilience Consulting |
| Exposure | The presence of people, assets, or ecosystems in places where they could be adversely affected by hazards. Example: Homes and businesses along low-lying coasts are exposed to coastal flooding from storms. | Adapted from U.S. Climate Resilience Toolkit Glossary |
| Financing | Defined in this tool as money obtained for a project that must be repaid eventually. An example of a financing tool: a bank loan that typically is paid back over time with interest. | AECOM |
| Funding | Defined in this tool as money available on a one-time or limited time basis (e.g., a grant) or over time (e.g., taxes or fees) that does not need to be repaid. | AECOM |
| Green Infrastructure | Projects - generally built or engineered solutions such as green roofs or bioswales - that combine gray infrastructure with nature-based solutions to create hybrid systems that improve resilience to climate impacts. These projects also often result in environmental, economic, and social co-benefits. Note that this is distinct from natural infrastructure, or projects that use existing or rebuilt natural landscapes (i.e., forests, floodplains, and wetlands) to increase resilience to climate impacts, often resulting in environmental, economic, and social co-benefits. | Environmental and Energy Study Institute - EESI |
| Individuals and communities on the front lines of climate change | People and communities on the front lines of climate change experience the consequences of climate change first and worst. They include people who are both highly exposed to climate risks because of the places they live and because they have fewer resources, capacity, safety nets, or political power to respond to those risks. This reflects widespread discrimination. They include BIPOC individuals and those with low incomes or from low-income backgrounds. They also include immigrants, those at-risk of displacement, old and young people, people experiencing homelessness, outdoor workers, incarcerated people, renters, people with disabilities, and chronically ill or hospitalized people. | Derived from conversations with ASAP members, Georgetown Climate Center Equitable Adaptation Legal and Policy Toolkit and the NAACP Our Communities, Our Power: Advancing Resistance and Resilience in Climate Change Adaptation - Action Toolkit. |
| Justice | The process of acquiring equal access to rights, resources, opportunities, and power, as well as remedy of past harms. Achieving justice involves dismantling systems of oppression and privilege that create systemic disadvantages and barriers for certain individuals and groups. Example: Their work to pursue justice begins by recognizing the historical events and conditions that have caused the community to be oppressed. | Adapted from the Avarna Group |
| Maladaptation | Action taken ostensibly to avoid or reduce vulnerability to climate change that impacts adversely on, or increases the vulnerability of other systems, sectors or social groups | Barnett & O'Neill |
| Risk | The potential for consequences where something of value is at stake and the outcome is uncertain. Risk is often evaluated as the probability of a hazard occurring multiplied by the consequence that would result if it did occur. Example: Sea-level rise and increased development increase the risk of coastal property damage. | Adapted from IPCC |
| Sensitivity | The degree to which a system, population, or resource is or might be affected by hazards. Example: The yield of crops with a high sensitivity may be reduced in response to a change in daily minimum temperature during the pollination season. | Adapted from U.S. Climate Resilience Toolkit Glossary |
| Systems Thinking | A holistic approach to analysis that requires the capacity to solve problems at a complex, systems-level scale where many interrelated and interdependent parts interact within the whole system. Systems thinking requires the ability to understand system structure, recognize interconnections, identify feedback loops, understand non-linear relationships and adjust to dynamic conditions and behavior. Example: By using systems thinking, the local government anticipated that raising public transportation fees to cover the infrastructure upgrades necessary to adapt to increased flooding would disproportionately impact people with low incomes. | Adapted from Arnold and Wade |
| Transformational change | Irreversible, persistent adjustment in societal values, outlooks and behaviors of sufficient width and depth to alter any preceding situation. A structural change that alters the interplay of institutional, cultural, technological, economic and ecological dimensions of a given system. Example: To achieve transformational change in society, we need connection and collaboration among people and organizations from all sectors and scales. | UN Environment Program |
| Vulnerability | The propensity or predisposition of individuals, assets, or systems to be affected adversely by hazards. Vulnerability encompasses exposure, sensitivity, potential impacts, and adaptive capacity. Example: Overfishing makes fish populations more vulnerable to warming ocean temperatures, which hinders recovery of overfished populations. | U.S. Climate Resilience Toolkit |
This toolkit was created through a partnership between the American Society of Adaptation Professionals (ASAP) and Climate Resilience Consulting (CRC). The work was supported by the Climate Resilience Fund in support of the U.S. Climate Resilience Toolkit, and its "Steps to Resilience" planning framework. This funding is made possible in part by a NOAA cooperative agreement with Climate Resilience Fund.
Ready-to-Fund Resilience Expert Group Members: Kristin Baja, Kalila Barnett, Lisa Churchill, Donta Council, Grace Earle, Brandy Espinola,

Ann Kosmal,

Jason Lee, Fatima Luna, Omar Muhammad, Paula Pagniez, Ujala Qadir, Stacy Swann, Stewart Sarkozy-Banoczy, and Vernon Walker

Federal Programs Staff Focus Group Participants:

Jen Carpenter,

Luann Dahlman, Bradley Dean, Steve Fries, Josh Human,

Rachael Franks Taylor,

Ned Gardiner, Frances Josephs, Bryce Knolhoff, and Craig Zamuda.

CRC Staff: Joyce Coffee, Camilla Gardner, T. Jonathan Lee, and Ida Sami

ASAP Staff: Kyla Bloyer, Cassandra Cooper, Beth Gibbons, Rachel Jacobson, and Breana Nehls