Together, we can make our communities, ecosystems and economies safer and more resilient.
The American Society of Adaptation Professionals (ASAP) supports and connects professionals to better prepare for climate change. ASAP helps members strengthen their professional network, exchange best practices and practical advice, and accelerate innovation-all leading to a more equitable and effective climate adaptation practice.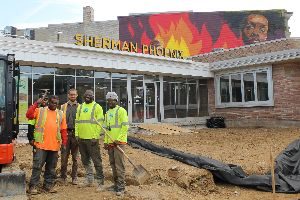 In Lindsay Heights, an African American neighborhood in Milwaukee, WI. Walnut Way Conservation Corp. is building community resilience through their program, Blue Skies Landscaping. Specializing in green infrastructure projects, Blue Skies focuses on beautifying vacant lots, residential, and commercial properties while reducing storm water pollution. Walnut Way employs community members, leading to economic opportunity in…
Read More

→
The space where innovation and climate resilience meet Beginning in June 2020 ASAP will host a year long webinar program highlighting how partnerships lead to ...
Read More

→
DC is boldly moving their resilience strategy forward. After two years of iterative engagement with residents, the capital city's unique approach includes one of our ...
Read More

→
Stay up to Date with the Latest News
Mentee Sara Papanikolaou is a graduate student in the Climate and Energy Policy program at Johns Hopkins University, where she is completing her Masters thesis examining applications for renewable energy within the adaptation space.  She is the Washington Campaign Organizer for Oceana, and also runs a local 350.org chapter, 350 Eastside, near Seattle, where she works on climate advocacy and in particular, public education around natural gas, including the recent short film she co-directed, 'Yehow'. Mentor John Phillips is the Director of Integrated Watershed Management at Parametrix. He manages the firm's approach to natural resources and infrastructure development in watershed planning, management, restoration, and climate change adaptation. Prior to Parametrix John worked for King County, managing the Combined Sewer Overflow ...
Read More

→
Flooding from Hurricane Matthew at Cherry Research Station and NCDA&CS first responders, from theGuiding Principles of the North Carolina Resilience Plan, North Carolina Department of ...
Read More

→
Mentee Jessica Robbins is an environmental planner based in the San Francisco Bay Area. Prior to joining her current workplace, Jessica worked with a wide ...
Read More

→