Submit a Self-Nomination or Nominee for ASAP's Board of Directors by June 20!
Together, we can make our communities, ecosystems and economies safer and more resilient.
The American Society of Adaptation Professionals (ASAP) supports and connects professionals to better prepare for climate change. ASAP helps members strengthen their professional network, exchange best practices and practical advice, and accelerate innovation-all leading to a more equitable and effective climate adaptation practice.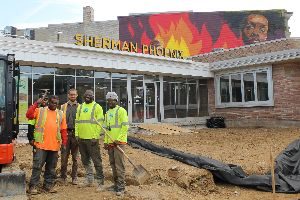 In Lindsay Heights, an African American neighborhood in Milwaukee, WI. Walnut Way Conservation Corp. is building community resilience through their program, Blue Skies Landscaping. Specializing in green infrastructure projects, Blue Skies focuses on beautifying vacant lots, residential, and commercial properties while reducing storm water pollution. Walnut Way employs community members, leading to economic opportunity in…
Read More

→
DC is boldly moving their resilience strategy forward. After two years of iterative engagement with residents, the capital city's unique approach includes one of our ...
Read More

→
West Virginia Division of Homeland Security and Emergency Management (DHSEM) recently recognized the counties of Fayette and Kanawha in their efforts towards fostering more disaster-resistant ...
Read More

→
Stay up to Date with the Latest News
Mentee Camilla Lizundia: Camilla Lizundia is an urban planner and artist based in Philadelphia, PA. They are the founder of Moving People Studio, a blog, and marketplace honoring the art of movement and contemplating the built environment. Camilla is particularly passionate about neighborhood-level responses to climate change, such as expanding transit networks, urban gardening, and community coalition building. They completed their Master's of Urban and Regional Planning ('22) with a focus area in transportation planning and their Bachelor's in the Environment ('20) from the University of Michigan. Mentor Jessica Cahail: Jessica Cahail is the Product Lead for EarthScan at Cervest, a climate intelligence company (and B Corp). Before joining Cervest, she was a Product Manager at Azavea, where she guided ...
Read More

→
In 2018, ASAP Members began a series of discussions on professional education needs for the climate change adaptation community. It quickly became clear that the ...
Read More

→
Welcome to the first Mentorship Spotlight of the 2023 Mentorship Program Cohort! Mentees Alexis Monti and Olivia Poon dive into their experience under the leadership ...
Read More

→