Together, we can make our communities, ecosystems and economies safer and more resilient.
The American Society of Adaptation Professionals (ASAP) supports and connects professionals to better prepare for climate change. ASAP helps members strengthen their professional network, exchange best practices and practical advice, and accelerate innovation-all leading to a more equitable and effective climate adaptation practice.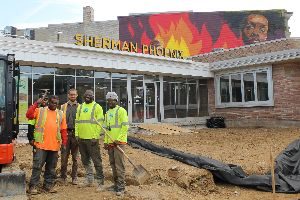 In Lindsay Heights, an African American neighborhood in Milwaukee, WI. Walnut Way Conservation Corp. is building community resilience through their program, Blue Skies Landscaping. Specializing in green infrastructure projects, Blue Skies focuses on beautifying vacant lots, residential, and commercial properties while reducing storm water pollution. Walnut Way employs community members, leading to economic opportunity in…
Read More

→
DC is boldly moving their resilience strategy forward. After two years of iterative engagement with residents, the capital city's unique approach includes one of our ...
Read More

→
West Virginia Division of Homeland Security and Emergency Management (DHSEM) recently recognized the counties of Fayette and Kanawha in their efforts towards fostering more disaster-resistant ...
Read More

→
Stay up to Date with the Latest News
Are you still waiting to register for the 2023 Climate Service Providers Academy? Register today to learn how to use the very best regional climate data and information in your services and programs. The lineup of presenters and panelists is now live for all sessions of the academy! The Opening Session kicks off on October 17, where participants will have the opportunity to hear from Keynote Speaker Dr. Julian Reyes. Dr. Julian Reyes is the Assistant Director for Climate Services at the White House Office of Science and Technology Policy, and Deputy Director for Services at the U.S. Global Change Research Program. Register Now Learn More Principles of Quality Adaptation - October 24 Graham Knibbs (Case Study) is a Geohazard Specialist with Stantec Consulting ...
Read More

→
This Mentorship Program Spotlight highlights a mentee and mentor duo focused on a journey to navigate the adaptation field. Meet Mentee Dolly Na-Yemeh and Mentor ...
Read More

→
This Mentorship Program Spotlight highlights a mentee and mentor duo focused on values and making successful transitions to a career in adaptation. Meet Mentee James ...
Read More

→