Together, we can make our communities, ecosystems and economies safer and more resilient.
The American Society of Adaptation Professionals (ASAP) supports and connects professionals to better prepare for climate change. ASAP helps members strengthen their professional network, exchange best practices and practical advice, and accelerate innovation-all leading to a more equitable and effective climate adaptation practice.
ASAP Member Survey 
The annual ASAP Member Survey is now open through May 31!
As a social impact network, ASAP relies on our members as leaders, partners, and collaborators in everything we do -- from visioning on the Strategic Planning Committee to leading Member Interest Groups to holding the network accountable on the Justice, Equity, Diversity, and Inclusion Committee.
One lucky survey respondent will receive a FREE YEAR OF ASAP MEMBERSHIP! ($150 value!) Five respondents will receive a free E-Book from our partners at Island Press and five additional respondents will receive ASAP water bottles!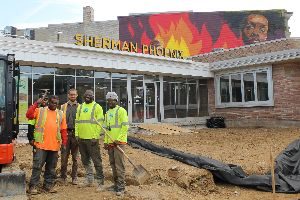 In Lindsay Heights, an African American neighborhood in Milwaukee, WI. Walnut Way Conservation Corp. is building community resilience through their program, Blue Skies Landscaping. Specializing in green infrastructure projects, Blue Skies focuses on beautifying vacant lots, residential, and commercial properties while reducing storm water pollution. Walnut Way employs community members, leading to economic opportunity in…
Read More

→
West Virginia Division of Homeland Security and Emergency Management (DHSEM) recently recognized the counties of Fayette and Kanawha in their efforts towards fostering more disaster-resistant ...
Read More

→
This past month in Southeast Florida, Miami-Dade County, an ASAP organizational member, alongside the City of Miami and the City of Miami Beach released their Resilient305 Strateg. ...
Read More

→
Stay up to Date with the Latest News
Facilitation Team for Matheny Tract community outreach event that took place on Martin Luther King day. From left to right: Arlin Benavides (CivicSpark Opportunity Access Fellow), Blanca Escobedo (Policy Advocate, Leadership Counsel for Justice and Accountability), Rebecca Berg (CivicSpark Resiliency Fellow), Miles Gordon (CivicSpark Climate Fellow)photo credit: Ricardo Torres By: ASAP Member Miles Gordon The California Adaptation Planning Guide, a state-produced resource for local governments and regional planning agencies who want to undertake climate adaptation planning in their respective jurisdictions, has been in the midst of a two-year update process since 2018 and is set to be transmitted to the general public in early summer 2020, with plans to convert it to an interactive web application on California's Adaptation Clearinghouse ...
Read More

→
Mentee Katy Barlow is the Restoration Manager for The Nature Conservancy's (TNC) Central Appalachians Program. The program's mission is to protect and manage the climate-resilient ...
Read More

→
By: Miles Gordon, ASAP Member Over the past two weeks, I have been working as part of a group of ASAP members to plan and ...
Read More

→