Together, we can make our communities, ecosystems and economies safer and more resilient.
The American Society of Adaptation Professionals (ASAP) supports and connects professionals to better prepare for climate change. ASAP helps members strengthen their professional network, exchange best practices and practical advice, and accelerate innovation-all leading to a more equitable and effective climate adaptation practice.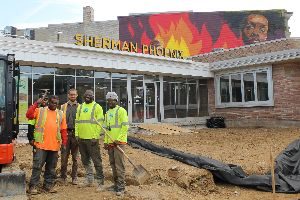 In Lindsay Heights, an African American neighborhood in Milwaukee, WI. Walnut Way Conservation Corp. is building community resilience through their program, Blue Skies Landscaping. Specializing in green infrastructure projects, Blue Skies focuses on beautifying vacant lots, residential, and commercial properties while reducing storm water pollution. Walnut Way employs community members, leading to economic opportunity in…
Read More

→
DC is boldly moving their resilience strategy forward. After two years of iterative engagement with residents, the capital city's unique approach includes one of our ...
Read More

→
West Virginia Division of Homeland Security and Emergency Management (DHSEM) recently recognized the counties of Fayette and Kanawha in their efforts towards fostering more disaster-resistant ...
Read More

→
Stay up to Date with the Latest News
Mentee Caroline Resor is a Strategy Associate for the American Flood Coalition in Washington, DC. Prior to AFC, Caroline worked at NASA's Goddard Space Flight Center on a machine learning flood model for Ellicott City. Previously, she was a Senior Analyst with sustainable infrastructure investor Hannon Armstrong. She worked with wind and solar energy companies to manage risk on project finance investments. In 2017, Caroline graduated with a degree in Environmental Studies from Dartmouth College, where she held various leadership positions in the Dartmouth Outing Club. Caroline led backpacking trips everywhere from Texas to Utah to Arizona. Participating in one college tradition called "The Fifty," she and three friends walked 54 miles of the New Hampshire Appalachian Trail without resting. ...
Read More

→
Mentee Kyle Sullivan is a Climate Adaptation Fellow at ASAP and a public health advocate living in Southeast Michigan. Kyle built their MPH in environmental ...
Read More

→
The space where innovation and climate resilience meet Beginning in June 2020 ASAP will host a year long webinar program highlighting how partnerships lead to ...
Read More

→