Together, we can make our communities, ecosystems and economies safer and more resilient.
The American Society of Adaptation Professionals (ASAP) supports and connects professionals to better prepare for climate change. ASAP helps members strengthen their professional network, exchange best practices and practical advice, and accelerate innovation-all leading to a more equitable and effective climate adaptation practice.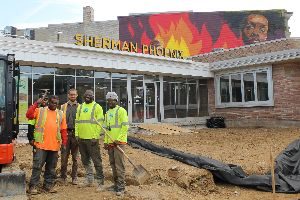 In Lindsay Heights, an African American neighborhood in Milwaukee, WI. Walnut Way Conservation Corp. is building community resilience through their program, Blue Skies Landscaping. Specializing in green infrastructure projects, Blue Skies focuses on beautifying vacant lots, residential, and commercial properties while reducing storm water pollution. Walnut Way employs community members, leading to economic opportunity in…
Read More

→
The space where innovation and climate resilience meet Beginning in June 2020 ASAP will host a year long webinar program highlighting how partnerships lead to ...
Read More

→
DC is boldly moving their resilience strategy forward. After two years of iterative engagement with residents, the capital city's unique approach includes one of our ...
Read More

→
Stay up to Date with the Latest News
Mentee Kristin Kelleher was impelled to enter the environmental field by watching the impact of sea-level rise on her hometown, and further developed her commitment to environmental policy while working as a legislative aide in the Massachusetts State House. After the intense storms of the winter of 2018, Kristin led the Massachusetts Businesses Acting on Rising Seas Campaign. She currently serves as the Vice Consul of Prosperity, Energy, and Climate Policy at the British Consulate in Boston. She received her master's degree in Environment, Politics, and Globalisation from King's College London, and her undergraduate degree in International Relations from GWU. Kristin is a Rotarian, a member of the Emerald Necklace Rose Garden Committee, and an Agenda Setter for the Climigration ...
Read More

→
Mentee Sara Papanikolaou is a graduate student in the Climate and Energy Policy program at Johns Hopkins University, where she is completing her Masters thesis ...
Read More

→
Flooding from Hurricane Matthew at Cherry Research Station and NCDA&CS first responders, from theGuiding Principles of the North Carolina Resilience Plan, North Carolina Department of ...
Read More

→