Together, we can make our communities, ecosystems and economies safer and more resilient.
The American Society of Adaptation Professionals (ASAP) supports and connects professionals to better prepare for climate change. ASAP helps members strengthen their professional network, exchange best practices and practical advice, and accelerate innovation-all leading to a more equitable and effective climate adaptation practice.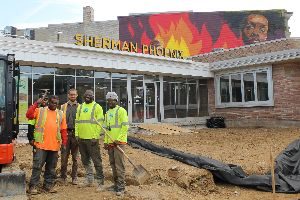 In Lindsay Heights, an African American neighborhood in Milwaukee, WI. Walnut Way Conservation Corp. is building community resilience through their program, Blue Skies Landscaping. Specializing in green infrastructure projects, Blue Skies focuses on beautifying vacant lots, residential, and commercial properties while reducing storm water pollution. Walnut Way employs community members, leading to economic opportunity in…
Read More

→
DC is boldly moving their resilience strategy forward. After two years of iterative engagement with residents, the capital city's unique approach includes one of our ...
Read More

→
West Virginia Division of Homeland Security and Emergency Management (DHSEM) recently recognized the counties of Fayette and Kanawha in their efforts towards fostering more disaster-resistant ...
Read More

→
Stay up to Date with the Latest News
Community Resilience and Access Planning for CA Parklands Questions or want to learn more? Reach out to Gabriel Varela With the assistance of an ASAP microgrant, Climate Resolve is currently working on a Community Resilience and Access plan for the Baldwin Hills Conservancy Parklands in Los Angeles, California. Climate Resolve's work is one of ASAP's three Hubs Microgrants which are all focused around activating grassroots engagement across the ASAP network. You can learn more about all of the projects here. The Hubs Microgrant Porgram is supporting Climate Resolve in fostering stakeholder engagement to gather feedback from community members on their vision for a resilience hub at the Baldwin Hills Conservancy Parklands. The Climate Resolve project seeks to create an inclusive ...
Read More

→
Mentee Sarah Collins is a mother, educator, researcher, and scholar pursuing dual master's degrees at the University of Michigan. She seeks to blend her Environment ...
Read More

→
Mentee Sarah Huang is a Program Coordinator at Shared-Use Mobility Center where she supports implementation and evaluation of the Clean Mobility Options Voucher Pilot program. ...
Read More

→