Together, we can make our communities, ecosystems and economies safer and more resilient.
The American Society of Adaptation Professionals (ASAP) supports and connects professionals to better prepare for climate change. ASAP helps members strengthen their professional network, exchange best practices and practical advice, and accelerate innovation-all leading to a more equitable and effective climate adaptation practice.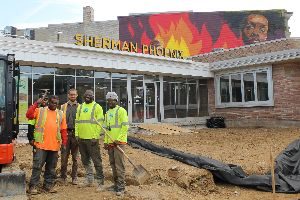 In Lindsay Heights, an African American neighborhood in Milwaukee, WI. Walnut Way Conservation Corp. is building community resilience through their program, Blue Skies Landscaping. Specializing in green infrastructure projects, Blue Skies focuses on beautifying vacant lots, residential, and commercial properties while reducing storm water pollution. Walnut Way employs community members, leading to economic opportunity in…
Read More

→
DC is boldly moving their resilience strategy forward. After two years of iterative engagement with residents, the capital city's unique approach includes one of our ...
Read More

→
West Virginia Division of Homeland Security and Emergency Management (DHSEM) recently recognized the counties of Fayette and Kanawha in their efforts towards fostering more disaster-resistant ...
Read More

→
Stay up to Date with the Latest News
Mentee Ana Mejia has 3 years experience in the adaptation field working with nonprofits and natural resource agencies. She serves as the Environment Organizer with the Vermont Releaf Collective working to empower and elevate the voices of Black, Indigenous, People of Color on environmental issues so that every member of the BIPOC community can thrive in a safe, healthy, and resilient environment. Her lived experience as a community organizer in BIPOC, low-income, and immigrant communities informs her approach to climate resilience. Ana lives in unceded Abenaki land, settled as Hartland, VT. This is her first year participating in ASAP's mentorship program. Mentor Julie Wormser has over 10 years of experience in the adaptation profession, currently as deputy director of the ...
Read More

→
Mentee Lucas Do's goal is to develop climate data into actionable, localized recommendations for climate adaptation. After receiving his BA, he served as an AmeriCorps ...
Read More

→
Mentee Veronica Correa is a rising second-year master's student at the University of Michigan School for Environment and Sustainability. She is especially interested in urbanization, ...
Read More

→