Together, we can make our communities, ecosystems and economies safer and more resilient.
The American Society of Adaptation Professionals (ASAP) supports and connects professionals to better prepare for climate change. ASAP helps members strengthen their professional network, exchange best practices and practical advice, and accelerate innovation-all leading to a more equitable and effective climate adaptation practice.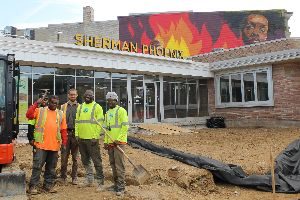 In Lindsay Heights, an African American neighborhood in Milwaukee, WI. Walnut Way Conservation Corp. is building community resilience through their program, Blue Skies Landscaping. Specializing in green infrastructure projects, Blue Skies focuses on beautifying vacant lots, residential, and commercial properties while reducing storm water pollution. Walnut Way employs community members, leading to economic opportunity in…
Read More

→
The space where innovation and climate resilience meet Beginning in June 2020 ASAP will host a year long webinar program highlighting how partnerships lead to ...
Read More

→
DC is boldly moving their resilience strategy forward. After two years of iterative engagement with residents, the capital city's unique approach includes one of our ...
Read More

→
Stay up to Date with the Latest News
Mentee Sam Horowitz is an MEM candidate at the Yale School of the Environment. He was born and raised in NYC, where his experience with Superstorm Sandy sparked a passion for climate adaptation and resilience. He has advised the DNC Council on the Environment and Climate Crisis, written policy for a 2020 presidential campaign, and helped enact landmark climate policy in New York as a Field Advisor with Our Climate, a youth-focused climate advocacy group. Sam also served as President of the Democrats of the Claremont Colleges, helping to make the schools some of the most civically engaged in the country. Sam is a graduate of Pitzer College. Mentor Celis Brisbin is a management professional with over ten years of ...
Read More

→
When the pandemic hit in March, ASAP was gearing up for an inspiring season of Regional Adaptation Fora and Regional Adaptation Leadership Award (RALA) ceremonies. ...
Read More

→
ASAP is thrilled to highlight the incredible accomplishments of the 2020 New England Regional Adaptation Leadership Award Finalists. Thank you to our nominators and selection ...
Read More

→