Piloting Adaptation & Resilience Programs in the Great Lakes Region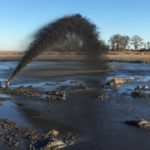 The Great Lakes Integrated Sciences and Assessments (GLISA), a NOAA RISA Team, will support ASAP with two newly funded initiatives for two years.
Piloting Adaptation & Resilience Programs in the Great Lakes Region
Private sector service providers are entering the adaptation and resilience field at an increased rate. Through integration into the boundary chain model, private sector businesses have the opportunity to play a critical role in scaling equitable, ethical and actionable adaptation strategies. Starting in November 2019, ASAP will work with Adaptation International to assess the current practices and needs of for-profit climate service providers.
Following the initial assessment interested service providers will be invited to a one day workshop with regional climate experts to gain access to high-quality, vetted climate data, regionally applicable downscaled climate models, and vulnerability assessment tools and adaptation strategies. As a result of this project, service providers will build relationships with GLISA and its partners, learn how to use GLISA resources, and gain proficiency at replicating GLISA's processes for developing climate impact scenarios for current or future clients across a range of sectors and sub-regions within the Great Lakes Region. The first round of assessments and workshops will take place in the Great Lakes region (eight states and two provinces from Minnesota to New York). ASAP is actively seeking partners and resources to expand this pilot to additional regions in coordination with the 2020 Regional Adaptation Fora, contact Beth Gibbons for more information.
Launching in Spring 2020, GLISA will also support ASAP and partners, The City of Ann Arbor, National League of Cities, and Florida State University, to conduct a cross-disciplinary applied research project that will generate two replicable methodologies for anticipating economic and population shifts under changing climate conditions in the Great Lakes region.
Designed to provide decision-makers better information on what to expect from industries and people moving into the region, this project also anticipates to catalyze additional investment and research into the topic of in-migration and regional preparedness and introduce a new narrative around climate change that focuses on potential benefits and opportunities, rather than negative impacts and risk. Between now and April 2020, ASAP is seeking partners interested in collaborating on this project and will be working with the Climate Migration Member Led Interest group to ensure the project design and outcomes support members' interests and needs, to learn more about this opportunity contact Beth Gibbons.