ASAP Regional Hubs Get a Boost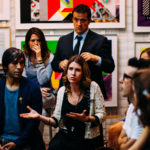 The Summit Foundation will support ASAP, in partnership with Network Impact, in regional hub strategy development and deployment. We are excited for this opportunity to critically review and expand ways to strengthen capacity for climate adaptation through the development of interconnected, local professional networks or hubs.
ASAP Regional Hubs Get a Boost
Hubs are place-based groups that host networking events, foster peer learning and sustain local adaptation conversation and action. We know from our member surveys that opportunities to connect in person with fellow adaptation professionals locally is a high priority for members, and we are excited to have dedicated resources and expertise to implement sound, sustainable mechanisms to connect and support our members in this way.
Through this grant ASAP members will have an opportunity to:
Participate in the co-creation of a 3-year strategy for sustained support of regional hubs across the country;
Access resources for local and regional networking; and
Strengthen ASAP's role as a connector of local and regional adaptation networks.
"For the past few years, we have supported local and regional activity on an ad hoc basis. With this grant, we have an opportunity to deliver strategic resources including staff time and funding to support the on-the-ground networking and collaboration between ASAP members. Through this project, we can meaningfully support existing hubs and jump-start hubs in new regions."
 Beth Gibbons, ASAP's Executive Director
This project will take place between August 2019-March 2020 and will support the advancement of current Hubs as well as the formation of new ones. Learn more about ASAP's current hub work in Metro Boston, New England, San Francisco, and the D.C. region here.