MENTORSHIP SPOTLIGHT: Navigating the Interdisciplinary Field of Climate Resilience
This week's Mentorship Program Spotlight highlights a mentee and mentor duo overcoming the unexpected. Meet Mentee John McClure and Mentor Amy Bailey!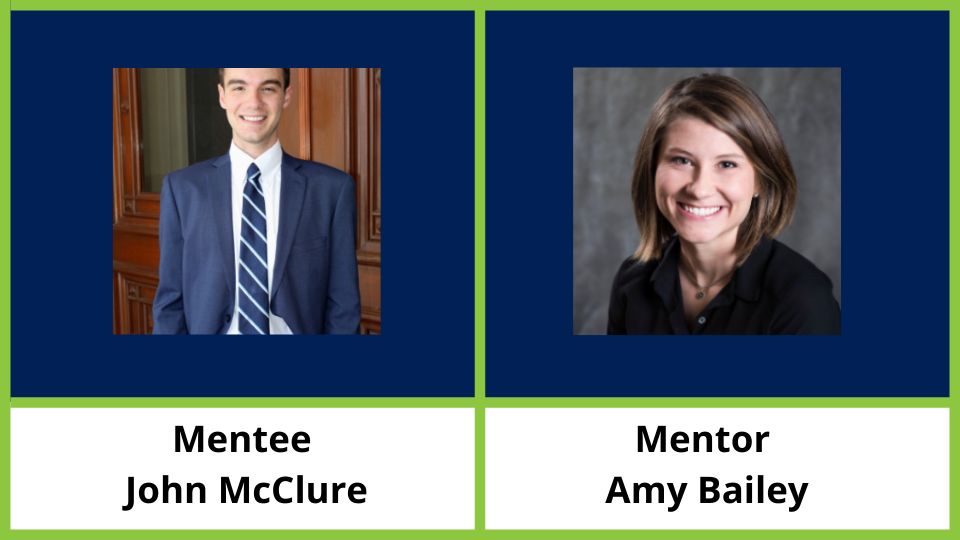 Mentee John McClure is a 25-year-old recent graduate from the University of Michigan, receiving his MS in Environmental Justice, Policy, and Planning, graduating in Spring 2023. He received his BA in Environmental Studies and Anthropology from UC Santa Cruz in 2020 and then worked as an Environmental Justice fellow with National Wildlife Federation's Great Lakes Regional Center. John's primary interests include climate adaptation and resilience planning and environmental justice policy and advocacy. After graduating, John would like to move to the Washington DC area to work for an environmental NGO or research center focused on climate change solutions while centering equity and resilience. Ultimately, John seeks to understand better how humans can better adapt to the effects of climate change equitably and sustainably, centering human stories and community engagement along the way.
Mentor Amy Bailey is the Director of Climate Resilience and Sustainability at the Center for Climate and Energy Solutions (C2ES). In this role, she identifies emerging approaches and solutions for climate change resilience and increases information sharing between cities, states, the federal government, and companies. Amy manages the Alliance for a Sustainable Future initiative and leads C2ES's participation in the Electric Power Research Institute (EPRI) Climate READi Initiative. She also serves on the Corporate Social Responsibility (CSR) Advisory Board of Stanley Black and Decker.
At the start of this program, John was in his final year at the University of Michigan's Masters of Science program in Environment and Sustainability, gaining specializations in Environmental Justice and Environmental Policy and Planning, as well as a Graduate Certificate in Science, Technology, and Public Policy. Interested in learning from existing professionals in this field of climate resilience and adaptation, John and Amy began their mentorship by discussing some of the technical aspects of applying to jobs, including different ways of connecting to potential employers, how to reach out initially to organizations, and how to prepare generally for the job search and hiring processes.
During the discussion, it became clear that there are many ways of approaching and working towards the idea of "resilience." There is a range of disciplines and ways of approaching climate adaptation and resilience, and because of that, there are many different types of employers that are hiring for these types of jobs, from non-profit organizations to government agencies to consulting firms. Just as important to recognize are the many different scales that this work is being done, from community neighborhood groups to national organizations working all over the country and world. One of the lessons John learned during these conversations was that the field of climate resilience is inherently interdisciplinary and collaborative and needs to be that way for true and equitable climate resilience and adaptation to take place.
Interested in working at the intersection of environmental justice and climate resilience, Amy was able to work with John throughout this mentorship program to help him grow as a resilience professional and figure out what parts of the country he would want to work in and the kinds of opportunities that would be available to him there to start his career after graduation!
Thanks to John and Amy for sharing their experience!