MENTORSHIP SPOTLIGHT: Learning to Expect the Unexpected
This week's Mentorship Program Spotlight highlights a mentee and mentor duo overcoming the unexpected. Meet Mentee Kate Leftin and Mentor Jenna Jorns!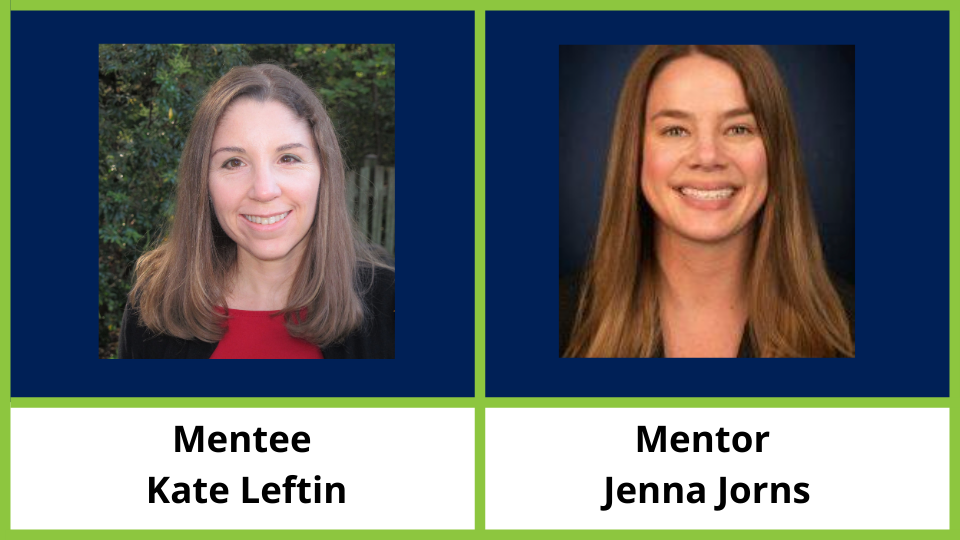 Mentee Kate Leftin (she/her) is based in the DC area and is an associate consultant that works remotely for Kimball Sustainable Healthcare in San Francisco. This is a second career for her. The first was in social work, and ironically, it was her master's in social work that ignited an interest in sustainability when she became involved in environmental justice initiatives. As a sustainability professional with a previous experience in healthcare settings, she is deeply passionate about helping healthcare live up to its responsibility to mitigate and adapt to climate change to protect human health. Last year she earned her Executive Master of Natural Resources with a certificate in global sustainability from Virginia Tech.
Mentor Jenna Jorns (she/her) is the Co-Director for GLISA, NOAA's Climate Adaptation Partnership (CAP) team for the Great Lakes region. She is based in Ann Arbor at the University of Michigan School for Environment and Sustainability. In this role, she works with academics, practitioners, and communities to advance equitable climate resilience in the Great Lakes. As a climate scientist by training, she enjoys helping GLISA's partners develop and apply the best available climate science in their decision-making. She has a Ph.D. in Geosciences from Princeton University and a B.S. in Biochemistry from the University of Illinois at Urbana-Champaign.
One of the things that makes the field of adaptation unique is that multiple disciplines hold it up. It brings together urban planners, ecologists, architects, and others that lend important perspectives to adaptation needs in a warming world. For that reason, it is not uncommon to find people pivoting careers into this space. For Kate, it was a drastic pivot, and being new to this career change has meant filling more than one skills gap. One of the themes discussed in mentorship meetings was advocating for pursuing professional development early in new positions. These discussions helped clarify Kate's decision to pursue the LEED Green Associate credential.
Through these meetings, Jenna and Kate also discovered that they are both working moms of young children! That led to somewhat unexpected but fruitful discussions of work-life balance. The challenges of unpredictable preschool illnesses wreaking havoc on an otherwise organized work schedule can make it challenging to navigate meetings and deadlines at times. Discussions included ways to regroup when childhood illnesses undo the best-laid plans. In some ways, this is not unlike the field of adaptation itself. It requires professionals to evaluate risks and plan for them, knowing that the unexpected can always happen. While we know the general risks of climate change, climate events come with little warning to the localities they hit. The wildfire smoke that both Jenna and Kate experienced this summer from the Canadian wildfires is a good example.
For the healthcare industry, the drastic supply chain challenges with COVID-19 mobilized greater attention to sustainability and resilience for hospitals. Many in the field started challenging the culture of relying on single-use disposable tools when current reserves of PPE proved insufficient to keep workers safe. The crisis made many health systems pivot and innovate, combining with other factors to mobilize greater attention to sustainability and resilience in this sector. The challenges of work-life balance are much smaller in scale, but thinking about how to adjust and pivot quickly is a useful skill in a field that needs to adapt to unpredictable disruptions.
Thank you to Kate and Jenna for sharing their experience!