What Inspires You? ASAP's President-Elect Julia Kim Shares Her Insights
Join ASAP's first-ever giving campaign and hear from ASAP members on how the Network inspires them and has been a driving force in advancing their career. The campaign ends September 18, make your contribution today!
Meet ASAP's President-Elect Julia Kim and understand how she came to love ASAP: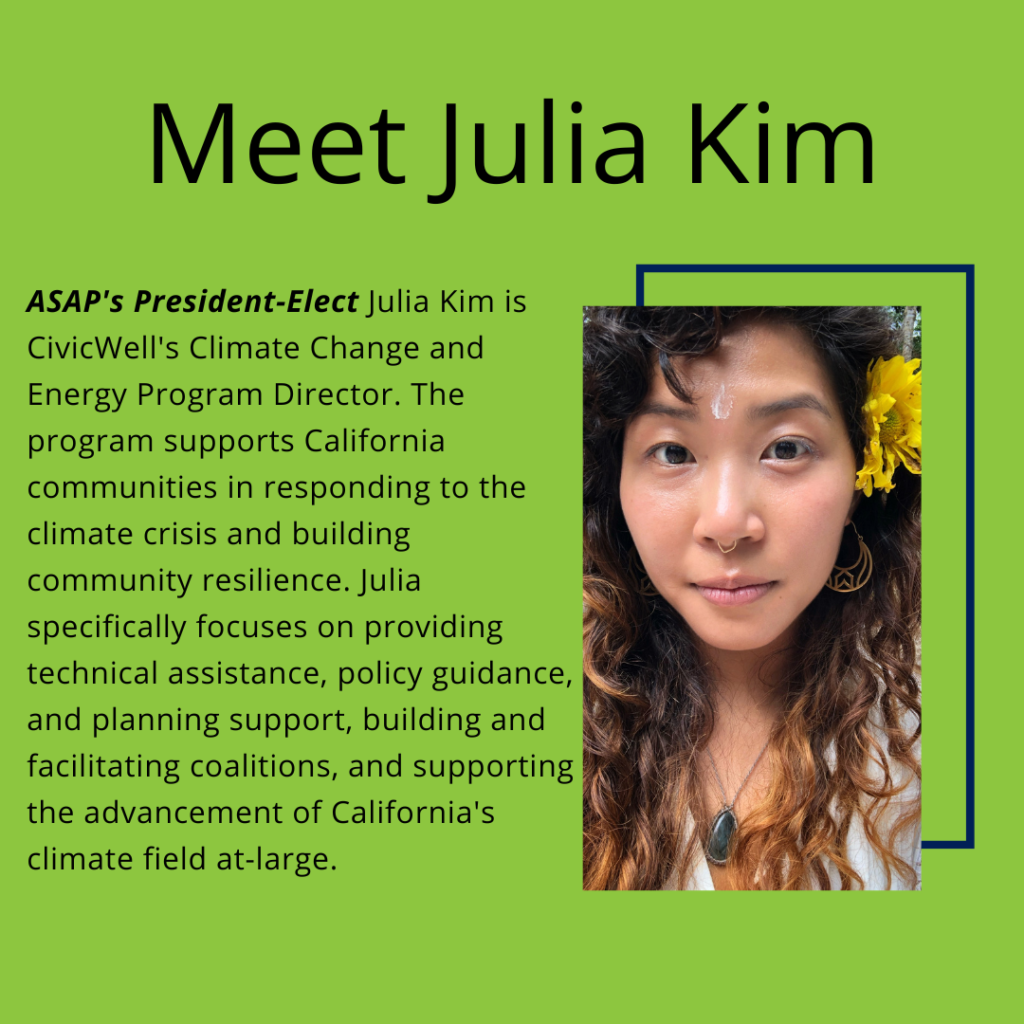 How did you find ASAP?
I was lucky enough to step into an existing partnership between ASAP and my organization when I started at CivicWell. Through this partnership, I had the opportunity to work with the incredible staff at ASAP as part of the 2016 California Adaptation Forum, just as I was launching my career in the climate adaptation/resilience field. This marked the beginning of my (almost) 7-year journey with ASAP!
Why is ASAP valuable to you?
ASAP helps me stay informed and inspired in this rapidly growing and evolving field — one that can also feel daunting and scary at times. The spaces and opportunities that ASAP has created for us are gifts that just keep on giving. The connections I've been able to form with adaptation leaders from across the country have been invaluable.
How do you use ASAP's programs, resources, and network?
ASAP events, newsletters, and member-led groups have all been great resources for me over the years. But one that really stands out is ASAP's Justice, Equity, Diversity, and Inclusion Committee and Leadership Team, which I have had the honor of serving on since 2019. Being part of this community provides a sense of safety, support, and camaraderie not just to keep me going, but to push me further.
What is the change you see ASAP making in the world?
ASAP is helping to sustain and grow the adaptation movement by focusing on what really matters: the people. People on the frontlines and those of us working behind the scenes; adaptation pioneers and adaptation newcomers; across generations and across state lines. Wherever you are in your climate adaptation and community resilience journey, there's a space for you here.