Mentorship Spotlight: The Power of Long-Term Planning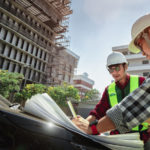 Mentee Nathan Stinnette is a sustainability consultant and project manager with Reynolds, Smith & Hills Inc., based in Jacksonville, Florida. Within the RS&H environmental and sustainability group, he consults on  projects related to sustainability planning, climate change and adaptation, resource efficiencies, waste minimization, environmental management systems, NEPA, and environmental compliance. Nathan joined ASAP and the mentorship program to develop adaptation planning skills that will help him better serve clients.
Mentor Lara Whitely Binder is the Climate Preparedness Specialist for King County, Washington and an expert in helping communities prepare for the impacts of climate change. Prior to joining King County, Lara served as a climate adaptation specialist and Senior Strategist at the University of Washington's Climate Impacts Group (CIG). As a pioneer in the field of adaptation, Lara has contributed several publications to adaptation planning, most recently: The Winds of Change? Exploring Climate Change-driven Migration and Related Impacts in the Pacific Northwest: Symposium Summary (2016)
Nathan and Lara have been exploring one of the fundamental underpinnings of effective climate change adaptation: appropriate timeframes to look at when considering climate change vulnerabilities. As Nathan shared, "I learned that it's important to look out to a longer timeframe (say, 2100) when considering impacts even if this is far beyond the normal planning horizon for an organization. This is because long range impacts will be more severe, so having an awareness of them will help prevent the organization from getting locked into short-term solutions which will eventually fail if they are not flexible enough"
Thanks to both of you for sharing what you've learned!