Mentorship Spotlight: Building resilience through language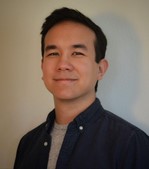 Mentee Lucas Do's goal is to develop climate data into actionable, localized recommendations for climate adaptation. After receiving his BA, he served as an AmeriCorps VISTA volunteer with an environmental justice nonprofit in his hometown of Louisville, Kentucky; this experience made clear the wide range of voices and issues that interact in the climate resilience sphere. After developing a passion for the quantitative side of climate adaptation research, he earned a Master's in Environmental Science from Wageningen University & Research in the Netherlands. Lucas is currently a research assistant at Illinois State University, where he is researching novel methods to assess climate vulnerability of fish populations in the state.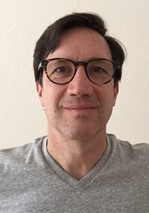 Mentor Ned Gardiner works full time to get global change information into the hands of people who can do something about it. His PhD in ecology involved modeling sediment in rivers and evaluating impacts on the biodiversity–algae, macroinvertebrates, and fishes–throughout western North Carolina. Working with spatial data (some call it geomancy) made Ned develop an experiential relationship to geomorphology, geology, climate, evolutionary biology, and coupled human-natural systems. He spent two field seasons on the lower Congo River with ichthyologists studying the evolutionary history of cichlids who had diverged since the evulsion of that river channel. Ned's heart and soul resonate with those biologically oriented research projects, but he learned immediately that data visualization provided a key to working with people to address the threats to biodiversity. He moved into climate communication to broaden his impact as a geospatial data visualization expert. He helped NOAA set up climate.gov and the U.S. Climate Resilience Toolkit and now works full time to get climate data into the hands of state and local government officials and to set climate action plans in motion. A native of Washington, D.C., Ned is grateful to ASAP for advancing action on social equity, for it has created a more holistic approach to adaptation. 
Many of Lucas and Ned's discussions have centered on the necessity of developing shared language and syntax for climate adaptation initiatives. ASAP's Living Guide shows the importance of addressing this challenge by making Learning Together and Collaborating two of the principles of quality climate change adaptation work. The breadth and complexity of global change means that no adaptation challenge will be solved solely by practitioners in one field. Interdisciplinary collaboration between areas of expertise and across sectors is necessary to tackle climate resilience, but comes with its own limitations. Working with other stakeholders to define climate risks and adaptation practices in the local context helps to overcome these limitations by facilitating effective communication between people with diverse backgrounds, and helps to build buy-in through transparency and ownership of the adaptation process.
Thanks to both for sharing what they've learned!