Highlights from the Midwest Climate Resilience Conference
ASAP's Training Specialist Mia Dozier traveled to the Midwest Climate Resilience Conference in Duluth, Minnesota, held October 25-27, 2023. Dive into highlights of Mia's experience at the conference, including a special equitable community engagement training, recruitment for water infrastructure from the environmental finance center for EPA's Region 5, and an update on the Ready-to-Fund Resilience project. Thank you to Mia Dozier for sharing with the network!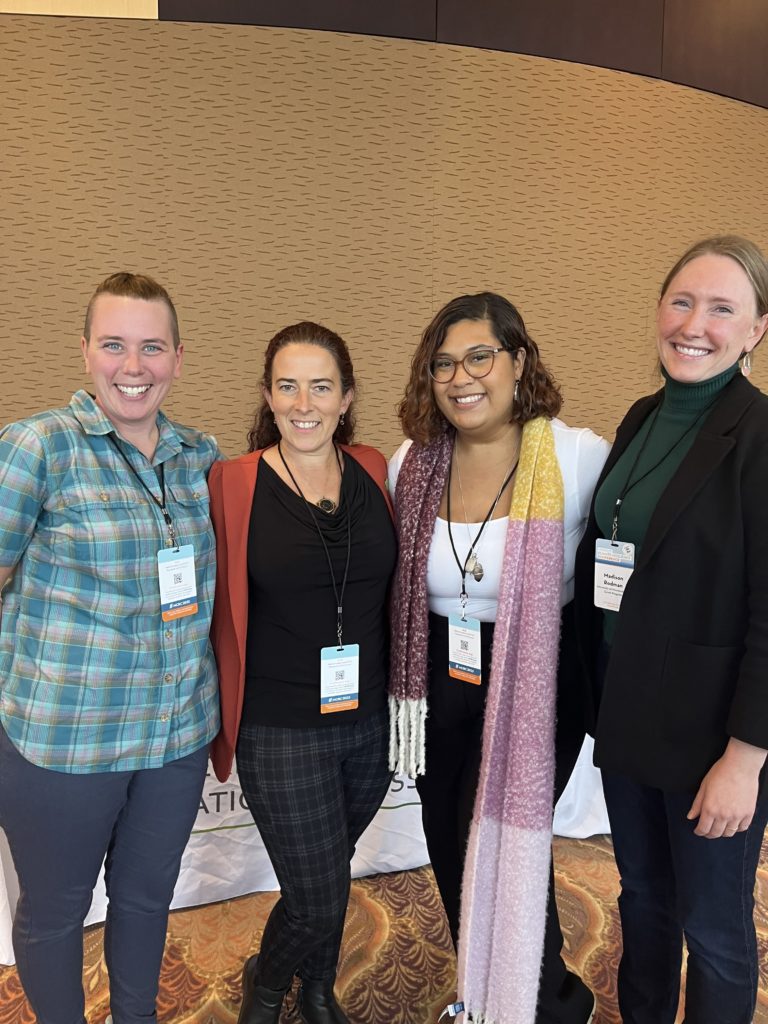 Equitable Community Engagement Session
This training was designed by Mia Dozier and Rachel Jacobson from ASAP, Beth Gibbons from Farallon Strategies, and T. Jonathan Lee from Climate Resilience Consulting to support participants in bringing principles and practices for equitable community engagement into their climate and infrastructure projects. During the training, participants increased their knowledge of equitable community engagement practices, heard directly from community leaders involved in climate adaptation work in their community, built skills for listening and dialoguing with community members and engaged in exercises and small group discussions to solidify their learning.
The session at the Midwest Climate Resilience Conference featured an outstanding case study from Tiffany Sprague and Madison Rodman at the University of Minnesota on their project "One Block at a Time." The One Block at a Time goals center on improving resilience to climate hazards through paired projects in four marginalized neighborhoods in Duluth, Minnesota; Erie, Pennsylvania; and Michigan City and Hammond, Indiana. The community-centric engagement processes of this project have increased opportunities for diverse groups to access climate information, participate in planning, and increase environmental literacy surrounding climate hazards and mitigation strategies.
EFC Poster Session
The Environmental Finance Center (EFC) Poster Session was oriented around identifying specific communities within EPA's Region 5 that would benefit from technical assistance leading to applications for State Revolving Funds (SRF) for clean and drinking water. The Clean Water SRF Program is a federal-state partnership that provides low-cost financing to communities for a wide range of water quality infrastructure projects, including municipal wastewater facilities, nonpoint source pollution control, decentralized wastewater treatment systems, stormwater runoff mitigation, green infrastructure, estuary protection, and water reuse.
Another goal of the session was to identify opportunities to connect with communities in the near future, e.g. through upcoming community meetings and gatherings. Environmental Finance Centers are funded by EPA and deliver targeted technical assistance to local governments, states, Tribes, Territories, and non-governmental organizations to protect public health, safeguard the environment, and advance environmental justice. There are 29 EFCs in 3 categories: "multimedia" EFCs that work on various environmental issues, "regional water infrastructure" EFCs like ours, and "national water infrastructure" EFCs that support the regional water infrastructure EFCs.
With this, ASAP is still looking for technical assistance providers and communities in Region 5 to support. If you are interested or know anyone who would be a good fit, please consider filling out the survey.
Ready-to-Fund Resilience Session
The final presentation we gave at the Midwest Climate Resilience Conference was a 90-minute session on the Ready-to-Fund Resilience training. ASAP's Ready-to-Fund Resilience Training tailors concepts in ASAP's Ready-to-Fund Resilience Toolkit for a broad audience, including municipalities, community-based organizations, and more. It equips these groups with the knowledge needed to develop funding and finance pipelines with both public and private dollars to maximize project impact and sustainability. This training was designed by ASAP in partnership with Joyce Coffee from Climate Resilience Consulting.
Access to federal funding is crucial for municipalities and organizations pursuing climate change initiatives, as it provides the financial resources necessary to implement comprehensive and impactful projects. These funds enable organizations to scale up their efforts, reach a wider audience, and significantly contribute to overall climate resilience in their neighborhoods. Additionally, federal funding validates the importance of local grassroots efforts, fostering a collaborative partnership between communities and higher levels of government. This financial support also ensures that communities on the frontlines of climate change have equitable opportunities to enhance their climate resilience, promoting social equity and environmental justice.
We are excited to have the ability to keep working on this project in 2024! Stay tuned for updates.