ASAP Network Meeting
September 13-15th, 2021
Connect. Celebrate. Recharge
ASAP Network Meeting
September 13-15th, 2021
Join us to connect with fellow ASAP members, celebrate the incredible accomplishments of our network, and recharge to address climate challenges with renewed hope and resolve.
Interested in attending the Network Meeting?
Registration for the Network Meeting closed on Sept 8th. Please contact Breana Nehls if you are still interested in registering. 
Interested in sponsoring the Network Meeting?
ASAP is committed to eliminating any financial barriers to attending the Network Meeting. Scholarships are available to anyone who needs financial support to participate via the ASAP JEDI Fund. Apply here.
Questions? Reach out to Breana Nehls.
ASAP is more than a professional society. It's an ever-evolving social impact network where connections between members are adding up to something bigger. Whether you've been an ASAP member for 10 years or 10 minutes, this is the place for you to discover the breadth and depth of the ASAP network, deepen your understanding of how and why to engage year-round, and strengthen your commitment to your peers and the work we're doing together to build the field of climate change adaptation. We can't wait to see you there!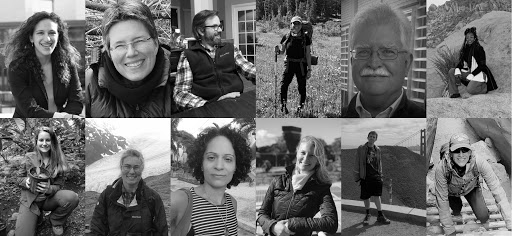 We know your schedule is unpredictable. That's why you'll be able to build a personalized Network Meeting agenda tailored to your interests and availability. ASAP is committed to creating an accessible and inclusive experience for members. Please use the registration form to share your accessibility needs and reach out to Breana Nehls with any questions.
Get involved - and get excited for - these Network Meeting activities!
Keynote and small group discussions on Justice, Equity, Diversity, and Inclusion

: Continue our network's shared work of learning and living the values, principles, and actions of justice, equity, diversity, and inclusion in the context of climate change adaptation and climate resilience.

Member Led Sessions:

Share about a program, activity, or initiative you are working on. Highlight how other ASAP members are adding value to your work and promote opportunities for ASAP members to get involved. Start a discussion on an adaptation topic you are passionate about. Create a space for members to socialize and practice personal resilience. Session

submissions

were due June 30th. 

ASAP 101:

Connect with ASAP member leaders and staff in small groups to get all of your ASAP questions answered. Learn how to engage in member programs, explore how ASAP can advance your career, and dive into organizational strategic planning, finance, and governance.

Networking Meals:

Back by popular demand, you'll have the opportunity to share virtual meals one-on-one with another ASAP member or at a small group "table".
ASAP Network Meeting Sponsors
We are looking for sponsors for the ASAP Network Meeting!
The ASAP Network Meeting is a unique opportunity where you'll be able to reach out to a highly trained and specialized audience, contribute to the advancement of the adaptation field, and support professionals to connect and improve their skills.

Marketing and promotion of the ASAP Network Meeting reaches over 3,000 professionals in climate adaptation and aligned professions. 
Network with 200 climate leaders who are planning and implementing climate adaptation solutions across North America.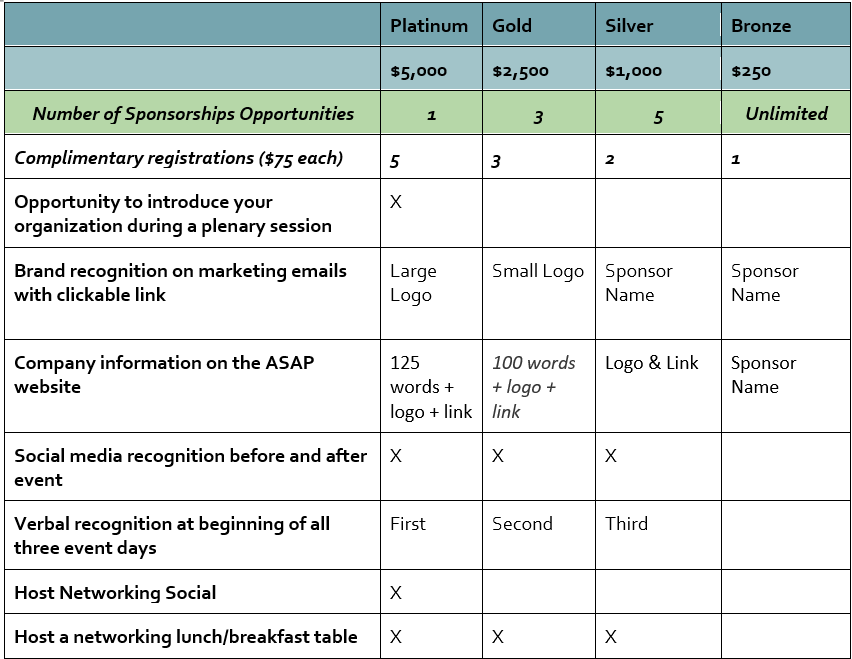 Questions? Email ASAP Program Manager Breana Nehls for further details or to discuss accommodations.
Thank you to our Network Meeting Planning Committee Members!
Vidya Balasubramanyam

Stasia Widerynski

David Nelson