Mentorship Spotlight: Professional Growth in the Field of Adaptation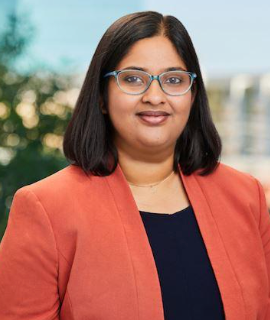 Mentee Revathi Veriah is an Urban Planner and Policy Analyst for AECOM in their Urbanism and Planning Practice in Dallas, Texas. She is passionate about sustainable development, resilience, planning for climate change and equitable community development. Revathi brings her expertise to support public sector clients in various projects, including climate action plans, sustainability studies, economic resilience studies, emergency management and compliance.
Mentor Celis Brisbin is a management professional with over ten years of experience in creative and engaging climate solutions across various countries and industries. He is currently a Public Assistance Task Force Leader at FEMA, where he works on infrastructure projects related to climate resilience and recovery. Celis' passion for climate solutions emerged when he witnessed the devastation of record droughts and storms while serving in the Peace Corps. Prior to FEMA, Celis worked to increase the availability and feasibility of renewable energy in the Northeast, where he developed innovative financing solutions that made community solar possible for small businesses and held the position of Deputy Director for the Massachusetts branch of the US Green Building Council. Celis holds an MEM from Duke's Nicholas School of the Environment and a BA in Community and Environmental Planning from the University of New Hampshire.
Through the Mentorship Program, Celis and Revathi explored various topics such as equity in planning for climate action, approach to resilience in different parts of the country, differences in working for the public and private sector, the importance of resilience hubs in communities, and emerging areas of practice in the field of climate adaptation. They discussed ways to navigate through career changes that align with one's goals and interests while leveraging previous experience.
They also discussed ways to approach professional growth in the field of climate adaptation. During their meetings, Celis shared his insight on several career development topics that ranged from personal assessment methods, online training courses, certificate programs, and networking to grow as a professional. Through the Mentorship Program, they met every two weeks; however, Celis was always only an email away! Revathi enjoyed hearing all about Celis' home improvement projects.
Thanks to both for sharing what they've learned!