MENTORSHIP SPOTLIGHT: Navigating Adaptation Efforts Across Federal Government Agencies
This week's Mentorship Program Spotlight highlights a mentee and mentor duo focused on Federal Level Adaptation. Meet Mentee Tanja Crk and Mentor Jonathan Cook!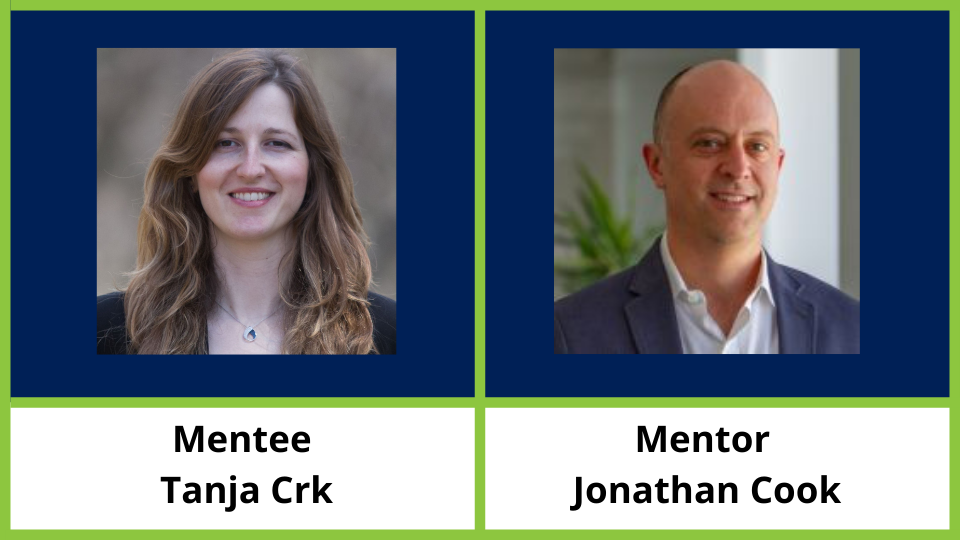 Mentee Tanja Crk has worked for fifteen years with the U.S. Environmental Protection Agency in regulatory and voluntary programs. Currently, she works as a product manager for the ENERGY STAR® program and is passionate about conservation biology, an area of research she pursued during her master's at Columbia University. Through the ASAP Mentorship Program, she is exploring domestic and international opportunities in the climate adaptation space.
Mentor Jonathan Cook has been in the adaptation field since 2009 when he served as Deputy Director for the Adaptation Program at the World Wildlife Fund (WWF). After WWF he spent nearly ten years working on adaptation for the U.S. Agency for International Development (USAID), where he currently serves as Senior Resilience and Climate Adaptation Advisor. He also spent nearly three years at the World Resources Institute as a core member of the secretariat for the Global Commission on Adaptation (GCA). He has worked extensively across Africa, Asia, and Latin America, including a secondment to Laos with WWF, and has been a contributing author to multiple publications, including the 4th U.S. National Climate Assessment (NCA).
Adaptation in the Federal Government
Jonathan has significant international experience and is most familiar with federal government and non-government organization efforts on adaptation abroad. Tanja has primarily focused on environmental policy and climate change mitigation efforts within the United States. Together they are exploring U.S. domestic and global efforts on climate change adaptation policy and implementation. The U.S. Global Change Research Program (USGCRP) has proven to be an excellent resource. The USGCRP sits under the White House's Office of Science and Technology Policy and represents fourteen member agencies. This governing body produces the NCA every two years and will soon issue the first National Nature Assessment. The USGCRP is host to the Federal Adaptation and Resilience Group (FARG) which includes hundreds of experts across multiple agencies who coordinate and collaborate around various adaptation topics including nature-based solutions, climate risk management, and climate data.
Fun Facts about the Mentee and Mentor
Jonathan is a father of two, speaks four languages, and just returned from a summer vacation in one of his favorite places: Maine. Tanja is originally from Croatia, enjoys hiking, and used to dance salsa.