MENTORSHIP SPOTLIGHT: Finding Common Ground in Varying Geographies
This Mentorship Program Spotlight highlights a mentee and mentor duo focused on professional development and navigating opportunities for growth in the resilience field. Meet Mentee Erin Minnigan and Mentor Tom Eisele!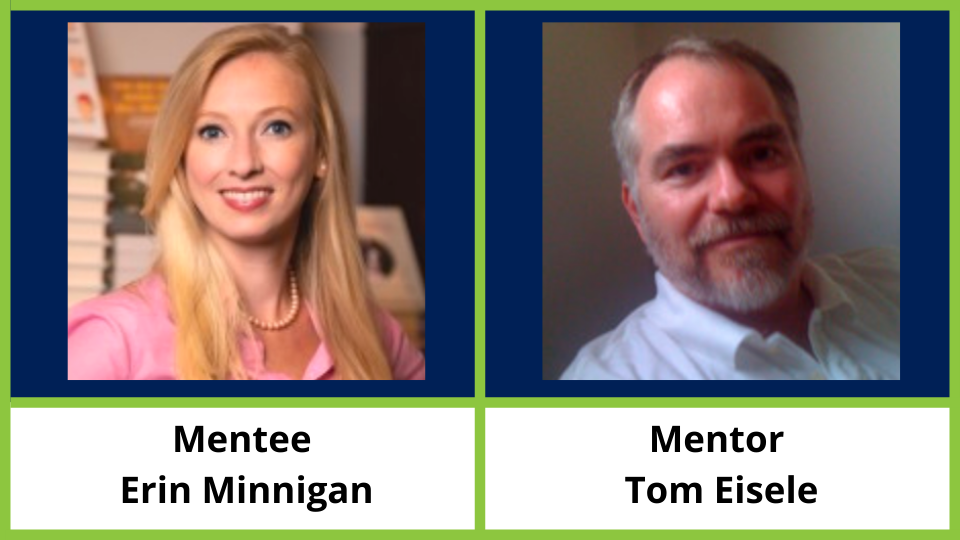 Mentee Erin Minnigan is the Director of Preservation and planning for the Preservation Society of Charleston, the nation's oldest grassroots preservation organization (est. 1920). In this role, she oversees the Society's planning and zoning advocacy and manages preservation programs. Bringing a wealth of experience in technical preservation, project review, and public process, Minnigan is passionate about maintaining the authenticity of Charleston's unique historic environment by promoting managed growth and shaping compatible new development.
Minnigan previously served as the Board of Architectural Review-Small Administrator for the City of Charleston, where she authored design guidelines for elevating historic buildings and managed community revitalization projects for the City of St. Augustine, FL. She has contributed to and presented on a number of projects regarding community revitalization, designation of sites associated with underrepresented communities, and flood adaptation strategies for historic districts. Minnigan holds a B.A. in Historic Preservation & Community Planning from the College of Charleston and a Master's in Urban and Regional Planning from the University of Florida.
Mentor Tom Eisele is an urban planner, licensed architect, LEED Accredited Professional, and Certified Passive House Designer with 39 years of professional experience in building and planning projects around the world. Tom is a member of The American Institute of Architects, The Urban Land Institute, and The National Institute of Building Sciences. He has been a member of ASAP since 2019. From 2010 through 2019, Tom was Senior Policy Advisor in the New York City Mayor's Office of Sustainability (MOS) and Office of Resiliency (MOR), drafting local laws amending the city's construction codes, zoning resolution, and environmental regulations. He is currently working on the development of the NYSERDA New York State Stretch Energy Code for 2023 and as a building sector advisor to the New York State Climate Impacts Assessment.
Erin and Tom made a great pair for the ASAP Mentorship Program this year based on their similar backgrounds and interests. The focus of their conversations has been on professional development and navigating opportunities for growth in the resilience field. Having now transitioned to a role in the non-profit sector, Erin originally got her start working for local governments, helping guide land use and design proposals. Tom similarly has a background in urban planning and architecture, and so the two were easily able to speak the same language! 
Quickly, Erin and Tom realized that although they come from very different environments in Charleston, South Carolina, and New York City, both professionals face similar challenges in their cities and have a lot to learn from each other. While the core of Erin's work is advocating for the preservation of Charleston's historic character, she has become increasingly focused on adaptation strategies for properties and neighborhoods affected by changing climate conditions. Interested in developing her expertise in climate resilience and how to impact local policy reform best, Tom was able to impart useful resources and strategies he found effective during his tenure as a Senior Policy Advisor in the NYC Mayor's Office of Sustainability and Resilience. 
Tom was particularly helpful in guiding Erin through the national resilience scene, including significant players and events, as well as key pieces of legislation and data sources. Tom even introduced Erin to some of the top professionals working for the Federal Government, who are working to shape critical climate policies for the future. Erin was incredibly grateful for this mentorship experience and looks forward to maintaining these meaningful connections, including her relationship with Tom!
Fun Facts about Erin and Tom
While Erin is in Charleston and Tom is in New York, they are both Southerners by heritage (Tom is from Arkansas and went to university in Texas, and Erin is originally from Florida).
Historic Preservation is a principal focus of Erin's career and a shared passion of both mentor and mentee. But Tom is smacking his forehead because he forgot to mention to Erin that he organized a lecture series on the fledgling topic of architectural historic preservation when he was an undergraduate in 1979!
Finally, during the course of the mentorship, the two discovered their shared agony over creating a "one-page resume," but Tom supported Erin through this dreaded but necessary exercise.