Mentorship Spotlight: Creativity in Research and Planning
Mentee Katy Barlow is the Restoration Manager for The Nature Conservancy's (TNC) Central Appalachians Program. The program's mission is to protect and manage the climate-resilient lands of the Central Appalachian mountains with nature-based solutions. In her position, Katy works with forest science researchers and restoration practitioners to apply science outcomes at scale through demonstration of on-the-ground restoration, strategic communications, and state and regional planning and programs.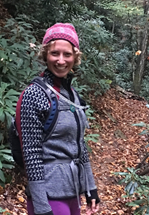 She leads a regional team of conservation staff to focus on forest climate adaptation strategies. Prior to working with TNC, Katy completed her PhD in ecology at the Pennsylvania State University (2018). Her dissertation research furthered insights in plant community dynamics post-restoration of highly disturbed forests in Appalachia.
Mentor David Reidmiller is the Acting Director of the USGS Northeast and Southeast Climate Adaptation Science Centers. Prior to his current position, Dave served as the Director of the Fourth National Climate Assessment while on detail to the U.S. Global Change Research Program at the White House Office of Science and Technology Policy (2016-2019).
As the Chief Climate Scientist and Lead Climate Technology Negotiator at the U.S. Department of State (2011-2016), he coordinated the U.S. engagement in the Intergovernmental Panel on Climate Change and led U.S. negotiations related to science and technology in the U.N. Framework Convention on Climate Change. Dave has a Ph.D. in Atmospheric Sciences from the University of Washington.
In her mentorship with Dave, Katy is learning how to better navigate climate data and information systems by developing her own systematic approach. Katy explains, "As an emerging professional in the climate adaptation field it can be hard to make sense of the amount of information about climate change; which organizations are important to follow, what type of new data and research to keep track of, as well as being able to connect the dots between science and implications for management." Dave has shared resources and strategies for narrowing research parameters which helps Katy bring more precision to her climate risk management planning work at TNC.
Through developing her research process, Katy has observed that "when seeking to provide guidance on climate-informed management, there won't always be direct insights from science regarding the particular system or system component." To work around this, Katy and Dave have explored the possibilities that can emerge by applying knowledge of well-studied systems to analogs in less-studied systems. These conversations have challenged Katy to develop non-linear approaches and a sense of "informed creativity" that she suspects will be essential for problem-solving in an uncertain climate reality.
Katy and Dave have connected over the sense of exploration they see in each other's experience. Katy appreciates the role and room that David has made for serendipity in his career, and Dave admires Katy's broad range of terrestrial ecosystem expertise which includes Egypt, Florida, Thailand, and Central Appalachia!
Thanks to both for sharing what they've learned!