2023 Climate Service Providers Academy

Registration: $250

ASAP Members: 25% off regular registration rate
Do your design, architecture, engineering, or planning clients count on you to help them address climate challenges? Do you want to encourage your company to prioritize climate resilience in the work you do? Do you work - or want to work - in the Great Lakes, South Central, the Caribbean, California/Nevada, or The North/Mid-Atlantic? Then the 2023 Climate Service Providers Academy is for you.
Hosted by American Society of Adaptation Professionals (ASAP) and sponsored by the NOAA Climate Adaptation Partnerships program, this virtual academy will give you the tools you need to develop higher-quality climate services and help your business succeed in the rapidly evolving climate services marketplace. You will come away with:
New skills for accessing the very best climate data and information tailored to states and regions across the US including: Great Lakes, South Central, Caribbean, North/Mid-Atlantic, California, and Nevada. 

Sophisticated knowledge and relevant examples of the strategies and approaches that constitute high-quality climate change adaptation and resilience practice across North America.

Connections to complementary businesses and potential partners and collaborators.
Workshop Format
The Climate Service Providers Academy includes up to 20 hours of real-time large and small group instruction and a comprehensive suite of digital workshop materials. 
Financial Support for Attendance
Cost should not be a barrier to attendance. Eligible registrants are invited to apply to ASAP's JEDI Fund to cover their registration costs.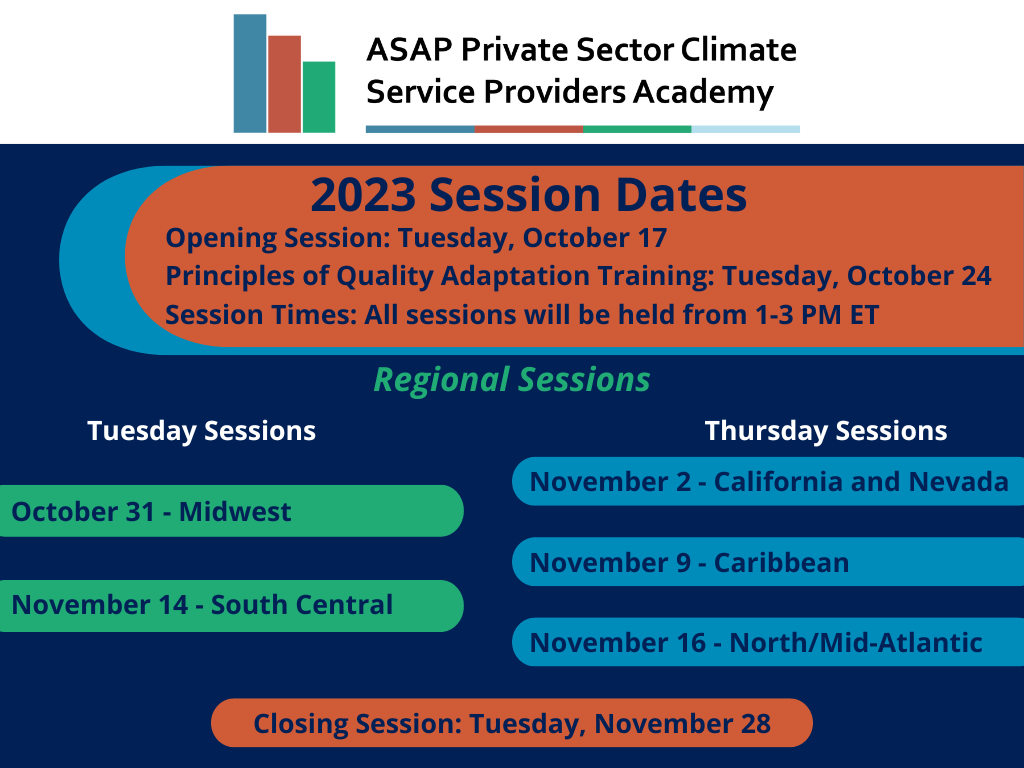 Engage with instructors and workshop material to share your business needs or connect with other participants to share ideas and foster partnership and collaboration. Each session is designed differently to help you achieve your individual and business goals.
A limited number of spots are available for additional, private consultations with instructors who can provide personalized support in the following areas:
Accessing and using region-specific climate data, models, and historic and future projections. 

Identifying, prioritizing, and applying principles of quality climate change adaptation practice.
All Academy participants should plan to attend the first two sessions, the closing session, and as many of the regional sessions as desired. Sessions will be held from 1-3 PM ET. Questions? Contact Mia Dozier at mdozier@adaptpros.org.
Meet the Academy Instructors and Presenters!
Our Instructors and Speakers
Opening Session - October 17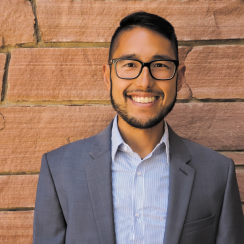 Dr. Julian Reyes is Assistant Director for Climate Services at the White House
Office of Science and Technology Policy
, and Deputy Director for Services at the
U.S. Global Change Research Program
. He is on loan from the U.S. Department of Agriculture where he served as the National Coordinator for USDA's Climate Hubs program. From that position, he brings broad experience in co-creating actionable, decision-relevant climate resources with stakeholders and the public to help manage climate risks. Prior, Julian was an AAAS Science and Technology Policy Fellow at the U.S. Department of State in their climate change office. He also spearheaded the development of the
AgRisk Viewer
, a new platform to provide accessible and discoverable crop insurance loss data. Julian earned both his B.S. and Ph.D. in civil engineering from Washington State University.
Principles of Quality Adaptation Session - October 24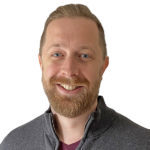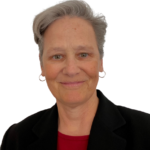 Midwest Session - October 31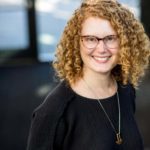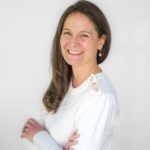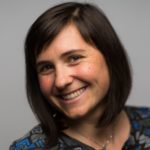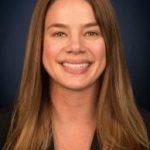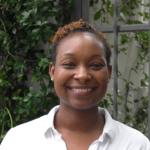 California and Nevada Session - November 2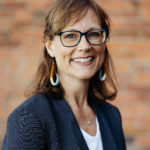 Caribbean Session - November 9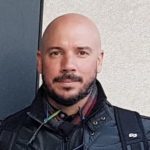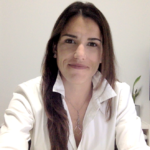 Dr. Patricia Chardon-Maldonado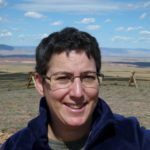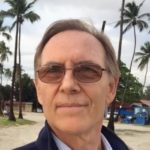 South Central Session - November 14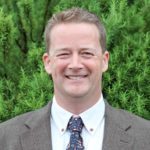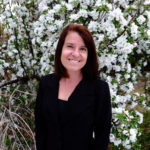 North/Mid-Atlantic Session - November 16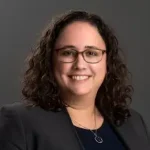 Dr. Krista Romita Grocholski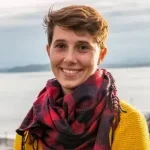 Closing Session Panel - November 28
The 2023 Private Sector Climate Service Providers Academy was prepared by the American Society of Adaptation Professionals using Federal funds under award NA23OAR4310135 from NOAA Climate Adaptation Partnerships (formerly RISA), U.S. Department of Commerce. The statements, findings, conclusions, and recommendations are those of the author(s) and do necessarily reflect the views of the NOAA or the U.S. Department of Commerce.
We'd also like to extend a special thank you to Adaptation International and Great Lakes Integrated Sciences and Assessments for their support in designing the Academy.