Great Lakes Climate Service Providers Academy
Despite growing demand for climate risk information, we know it can be tough to build a business in the climate space. What if you could attract more customers and engage the community of practice more effectively? We are looking for innovative companies to join the first ever Great Lakes Climate Service Providers Academy in September and do just that!
New skills for accessing the very best climate data and information for the Great Lakes region

Sophisticated knowledge and relevant examples of the strategies and approaches that constitute high quality climate change adaptation and resilience practice

New tools and inspiration for applying these resources in the context of your business
Workshop Fee: $99. ASAP members receive 25% discount. Registration closes Thursday, September 17.
Contact Kyle Sullivan at ksullivan@adpatpros.org for help affording the fee.  
The Great Lakes Climate Service Providers Academy will include seven hours of instruction between September 22 - October 1, 2020. A limited number of spots are available for hour-long private consultations with GLISA climate experts, who can provide personalized support using region-specific climate data, models, and projections.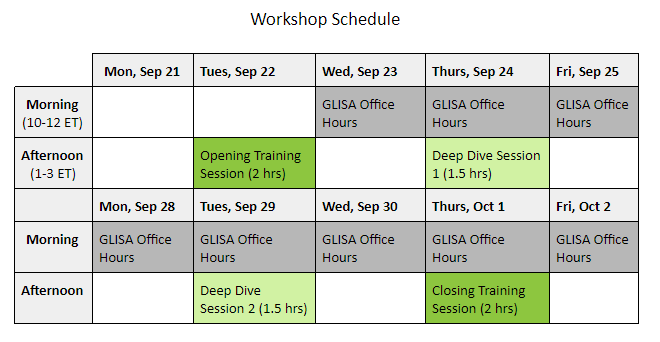 Multiple modes of engagement in each session will hep you achieve your individual and business goals. Engage with instructors and workshop material to discreetly share your business needs or connect with other participants to share ideas and foster partnership and collaboration.
American Society of Adaptation Professionals (ASAP)
Beth Gibbons, Executive Director. Beth brings expertise with ASAP's mission, its growing network of members and collaborators, and trends and opportunities to grow and strengthen the adaptation field. Beth is excited to help you paint a vision of the future of your firm in the Great Lakes region and identify concrete steps to stay on the leading edge of climate adaptation and resilience practice.

Rachel Jacobson, Deputy Director.

Rachel brings a strategic perspective from her leadership role in all ASAP programs and as a steward of ASAP's values and professional guidance resources. Rachel will help you build insights on adaptation values and practices that matter most to your firm and your bottom and incorporate these into your individual service improvement plan.
Great Lakes Integrated Sciences + Assessments (GLISA)
Laura Briley, Climatologist.

Laura brings her expertise in climate information for decision making to partnerships between GLISA and regional stakeholders to advance climate change adaptation in the Great Lakes Region. At the workshop, Laura will help you learn how to incorporate new climate data tools and practices from the public sector into your own decision-making processes.

Jenna Jorns, PhD, Program Manager.

Dr. Jorns brings intimate knowledge of GLISA's activities and research agenda from leading staff and coordinating faculty research across teams at the University of Michigan and Michigan State University. With that perspective and her background in applied climate research and policy development, Dr. Jorns is ready to help you find opportunities to integrate new climate data tools into your service delivery model and build new collaborations.
Adaptation International
Sascha Petersen, Founder. Sascha brings over 13 years of experience and expertise developing new approaches to continuous stakeholder engagement throughout the adaptation process. Sascha will lead you through a process of your own as you develop a plan to improve your firm's services by incorporating new climate data resources and best practices for adaptation and resilience work.

Alex Basaraba, Climate Resilience Specialist.

Alex Basaraba brings a diverse experience base from the interstice of environmental conservation, climate change, and human well-being using visual story-telling, research, and planning that will help you build a concrete vision and plan for your business in the Great Lakes region.
ASAP is thrilled to work with the following partners on this program:
Great Lakes Private Sector Project Advisory Group
Ann M. Ellingson

Alex Basaraba, Adaptation International

Sascha Petersen, Adaptation International

Jessica Cahail, Azavea

Ned Gardiner, NOAA, U.S. Climate Resilience Toolkit

Laura Briley, Great Lakes Integrated Sciences + Assessments

Jeffrey Meek, Minnesota Department of Transportation

Jim Fox, NEMAC+FernLeaf

Amanda Stevens, New York State Energy Research & Development Authority 

Justine Shapiro-Kline, One Architecture & Urbanism

Ted Redmond, paleBLUEdot llc

Glenn Milner, Savanta

The Brendle Group

Elizabeth Tomlinson, TKDA

Brian Smoliak, Two Degrees Adapt

Daniel Schoonmaker, West Michigan Sustainable Business Forum
Questions? Contact Academy Coordinator, Kyle Sullivan, at ksullivan@adaptpros.org
Registration closes Thursday, September 17.