Great Lakes Climate Service Providers Academy
Despite growing demand for climate risk information, we know it can be tough to build a business in the climate space. What if you could attract more customers and engage the community of practice more effectively? We are looking for innovative companies to join the first ever Great Lakes Climate Service Providers Academy in September and do just that!
New skills for accessing the very best climate data and information for the Great Lakes region

Sophisticated knowledge and relevant examples of the strategies and approaches that constitute high quality climate change adaptation and resilience practice

New tools and inspiration for applying these resources in the context of your business
Workshop Fee: $99. Register by Friday, August 21 for only $75! Additional 25% discount for ASAP members.
Contact Kyle Sullivan at ksullivan@adpatpros.org for help affording the fee.  
The Great Lakes Climate Service Providers Academy will include seven hours of instruction between September 22 - October 1, 2020. A limited number of spots are available for hour-long private consultations with GLISA climate experts, who can provide personalized support using region-specific climate data, models, and projections.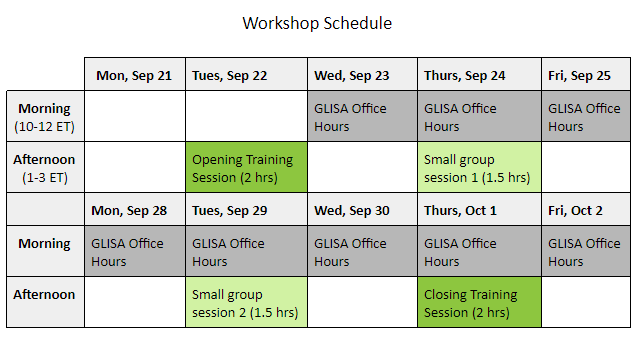 Multiple modes of engagement in each session will hep you achieve your individual and business goals. Engage with instructors and workshop material to discreetly share your business needs or connect with other participants to share ideas and foster partnership and collaboration.
Beth Gibbons and Rachel Jacobson, American Society of Adaptation Professionals. ASAP is a 501(c)3 Nonprofit Organization supporting and connecting climate adaptation professionals to advance innovation in the field of practice.

Great Lakes In

tegrated Sciences and Assessments. GLISA is a collaboration of the University of Michigan and Michigan State University funded by NOAA as part of a national network of NOAA Regional Integrated Sciences and Assessments (RISAs) that focus on adaptation to climate change and variability. GLISA is the NOAA RISA for the Great Lakes region.

Sascha Petersen, Adaptation International. AI is a small business specialized in bridging gaps between climate science and community action. AI develops strategies, software, and other tools that are necessary to share adaptation strategies and support their clients' climate resilience efforts.
ASAP is thrilled to work with the following partners on this program:
Great Lakes Private Sector Project Advisory Group
Ann Ellingson

Nyssa Russell, Adaptation International

Sascha Petersen, Adaptation International

Jessica Cahail, Azavea

Ned Gardiner, Collabralink Technologies, Inc., Contractor to NOAA

Laura Briley, Great Lakes Integrated Sciences + Assessments

Jeffrey Meek, Minnesota Department of Transportation

Jim Fox, NEMAC+FernLeaf

Amanda Stevens, New York State Energy Research & Development Authority 

Justine Shapiro-Kline, One Architecture & Urbanism

Ted Redmond, paleBLUEdot llc

Glenn Milner, Savanta

Erica Heller, The Brendle Group

Elizabeth Tomlinson, TKDA

Brian Smoliak, Two Degrees Adapt

Daniel Schoonmaker, West Michigan Sustainable Business Forum