Together, we can make our communities, ecosystems and economies safer and more resilient.
The American Society of Adaptation Professionals (ASAP) supports and connects professionals to better prepare for climate change. ASAP helps members strengthen their professional network, exchange best practices and practical advice, and accelerate innovation-all leading to a more equitable and effective climate adaptation practice.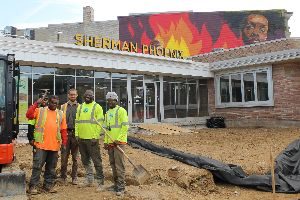 In Lindsay Heights, an African American neighborhood in Milwaukee, WI. Walnut Way Conservation Corp. is building community resilience through their program, Blue Skies Landscaping. Specializing in green infrastructure projects, Blue Skies focuses on beautifying vacant lots, residential, and commercial properties while reducing storm water pollution. Walnut Way employs community members, leading to economic opportunity in…
Read More

→
DC is boldly moving their resilience strategy forward. After two years of iterative engagement with residents, the capital city's unique approach includes one of our ...
Read More

→
West Virginia Division of Homeland Security and Emergency Management (DHSEM) recently recognized the counties of Fayette and Kanawha in their efforts towards fostering more disaster-resistant ...
Read More

→
Stay up to Date with the Latest News
Peer Learning is at the heart of the ASAP Network! Welcome to the monthly Peer Learning Round-Up! Let's recap the last opportunities for peer learning at ASAP: Policy Practice Group Our September Policy Practice Group meeting hosted a peer learning session on our third policy priority, "Require all physical and social infrastructure decisions to consider future climate conditions." Meeting Resources + Key Takeaways: NotesPolicy Tracker- all round robin policy updates are captured on the tracker Many resources for the IRA are in the Slack Channel.We focused our discussion on integrating equity into infrastructure projects.Our breakout rooms focused on case studies that highlighted where attendees have experienced successes and challenges in integrating equity into infrastructure projects. See notes from breakout groups here.Action ...
Read More

→
Mentee Sidney Chen is an associate consultant at WSP USA with an educational background in development practice with a focus on sustainability and climate change. ...
Read More

→
Mentee Chris Bobryk is a Planner at the Clinton River Watershed Council in Rochester Hills, Michigan. He leads a variety of programs that help communities ...
Read More

→