With more adaptation professionals than ever working in the field, members want opportunities to convene in person where they live and work. ASAP is partnering with the 2020 Regional Adaptation Fora (RAFs) to bring ASAP members together to celebrate leadership, build capacity, and network in seven regions: New England, Texas, California, the Southwest, the Carolinas, the Great Lakes, and Southeast Florida. We look forward to seeing you in person in 2020!
Learn more about ASAP & RAF Collaboration
RAFs are regional conferences that bring adaptation professionals together across sectors and scales to share solutions, challenges, and innovations. ASAP member discount codes are available for many of these events; please reach out to the ASAP team at info@adaptpros.org to claim a code. Not yet an ASAP Member? Learn about event discounts and other benefits and become a member today!  
"We don't often get the space or time to reflect on our practice with fellow adaptation practitioners who get 'it,'… this conference was a helpful reminder that our network can learn much from and contribute to other networks in the region," ASAP Member Melissa Ocana commenting on the 2018 Local Solutions: Eastern Climate Preparedness Conference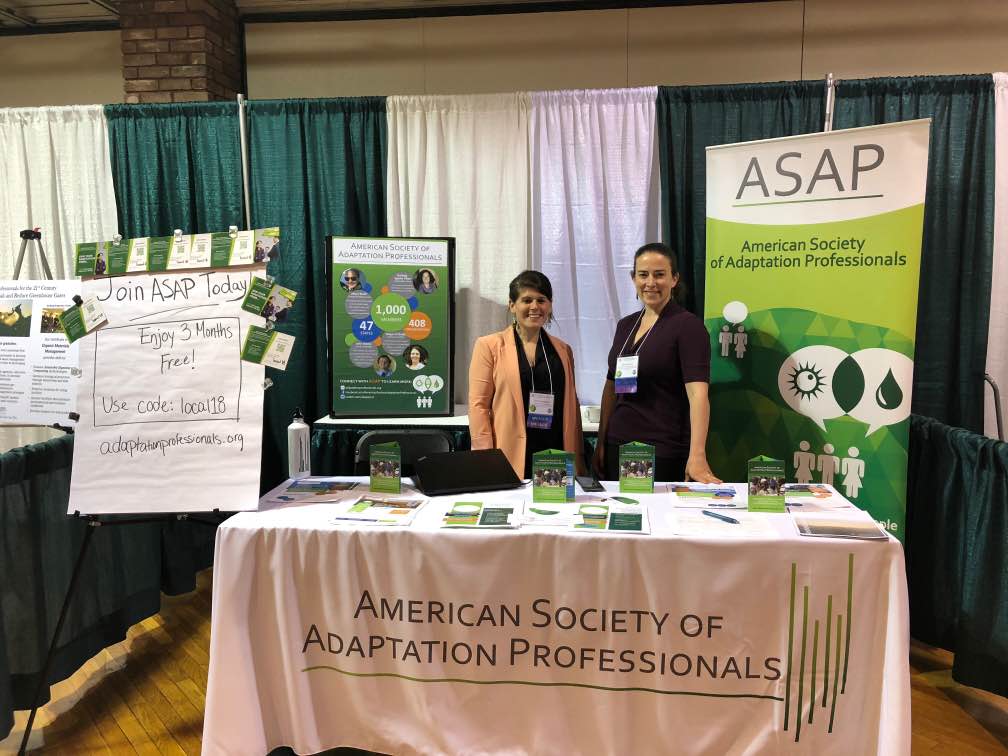 TX Resilience
Fall 2020 | Austin, TX 
Texas A&M University and Adaptation International are convening the inaugural Texas Resilience conference, which will focus on enhancing resilience across the State by strengthening connections and providing a platform to share experiences, tools, resources, and knowledge. 
Proposal submission: closed 
Local Solutions: Eastern Climate Preparedness Conference (Local Solutions)
Postponed to 2021 | Portland, ME
Antioch University New England, in partnership with NOAA and the Island Institute, is convening the 2020 Local Solutions: Climate Preparedness Conference.The 2020 Local Solutions conference will empower participants to take action steps that center on climate equity. 
California Adaptation Forum (CAF)
Postponed to 2021 | Riverside, CA
Local Government Commission will convene is convening the 2020 California Adaptation Forum aims to foster knowledge exchange, innovation, and mutual support to create resilient communities and tackle California's most pressing climate change challenges. 
Proposal submission due date: Not yet available

Early bird registration deadline: Not yet available

RALA submission deadline:  Not yet available
Carolinas Climate Resilience Conference (CCRC) 
May 10 - 12, 2021 | Durham, NC
Carolinas Integrated Sciences and Assessments is convening the Carolinas Climate Resilience Conference to bring together community leaders, government agencies, NGOs, researchers, adaptation practitioners and many others to share information about climate-related resources and experiences. 
Proposal submission due date: Not yet available

Early bird registration deadline: Not yet available

RALA submission deadline:  Monday, July 13
Southwest Adaptation Forum (SWAF)
November 17-19 | Phoenix, AZ: Gila River Indian Community 
This is an invite-only event; please contact ASAP for additional details. Conveners: Southwest Adaptation Science Center and Center for Climate Adaptation Science and Solutions
Great Lakes Adaptation Forum (GLAF)
Online Dates TBD | Buffalo NY
Convener: University at Buffalo
Regional Adaptation Leadership Awards
The ASAP Regional Adaptation Leadership Award (RALA) recognizes individuals who have distinguished themselves in the climate change adaptation field through exceptional leadership. The RALA recognizes the fact that deliberate, proactive adaptation, preparedness and resilience-building is a change process, a deviation from business-as-usual, and a courageous act of doing something new and different. At its heart are individuals who make this change happen, sometimes with very few resources. RALA winners will receive a year of ASAP membership, travel assistance to the 2021 National Adaptation Forum, and a year of promotion through ASAP's Adaptation Voices programs.
Nominate an inspiring adaptation leader TODAY! Learn about 2018 RALA honorees on the ASAP Blog. 
View the Call for Nominations. Nomination deadline is May 20. 
Texas RALA Selection Committee Members:
James Douglas, Conservation Program Coordinator, City of Denton

Christine Files, Attorney, Bastrop County

April Geruso, Director of Resilience, Hagerty Consulting

Greg Harman, Climate Action San Antonio

Meredith Jennings, Postdoctoral Research Scientist, Houston Advanced Research Center

Emma Kuster, University Assistant Director, South Central Climate Adaptation Science Center

Julia Murphy, Deputy Chief Sustainability Officer, City of San Antonio

Emily Powell, Coastal Resilience Specialist, National Wildlife Federation

Jeewasmi Thapa, Program Coordinator, Texas Target Communities
View the Call for Nominations. Nomination deadline is May 11. 
New England RALA Selection Committee Members:
Leo Matteo Bachinger, Doctoral Student, Rensselaer Polytechnic Institute

Sam Belknap, Community Development Officer, Island Institute

John Bolduc, Environmental Planner, City of Cambridge

Alison Branco, Coastal Director, The Nature Conservancy of New York

Madeleine Charney, Climate Change Conservation Librarian, University of Massachusetts Amherst

Annie Cox, Coastal Training Program Coordinator, Wells Reserve at Laudholm

Ned Gardiner, Engagement Manager, U.S. Climate Resilience Toolkit, NOAA

Robert Hart, Energy Efficiency Program Manager, Rhode Island Office of Energy Resources

Deanna Moran, Director of Environmental Planning, Conservation Law Foundation

Abi Abrash Walton, Director/Faculty, Antioch University New England
Cross-Forum Collaboration and Capacity Building
ASAP convenes the RAF organizers on a bi-monthly basis to enable peer learning and cross-forum connections and share data across regions to better understand the state of the adaptation field. In 2018, ASAP began generating a biennial report based on reflections from the events and themes shared across them. This analysis identifies regional strengths and goals and uncovers opportunities for translating innovation between various locations. 
Advancing the Adaptation Field Through Regional Conferences: Reflections on the 2018 Regional Adaptation Fora
Download a copy of the 2018 report
Key Lessons: 
Regional adaptation conferences are moving the needle for adaptation professionals and the field. Each of these conferences helps individual adaptation professionals, and the field as a whole, advance in the sophistication, quality, and volume of adaptation practice, and contributes to career development for adaptation practitioners.

Cross-regional sharing will enhance national cohesion and field development. The shared relevancy of many topics across RAFs demonstrates a cohesiveness in the adaptation field and underscores the value to practitioners of engaging in national conversations to share needs, promising practices, and successes to overcome capacity barriers and accelerate the pace of field evolution across North America.

Practitioners want to focus more on 1) equity, 2) funding, finance, and investment, and 3) building networks and relationships. As such, the field should focus on building relationships with experts in these areas and consider these topics for field-spanning activities that take place outside of the RAFs as well.

Consistent data collection will improve the value of RAFs to the field. Developing consistent data collection mechanisms, such as shared pre- and post-conference survey questions and consistent conference summary activities, will augment the value the RAFs provide to the field as a whole, as well as provide greater context for self-evaluation and understanding to each region and RAF.